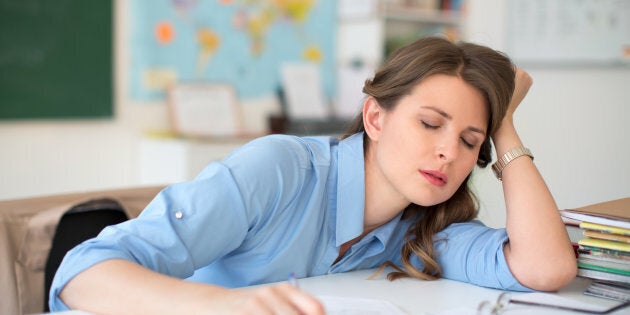 Your child is now entering the final weeks of term. It seems to have gone so fast! I'm sure it felt like only an hour ago you packed your child's first lunch for the year and saw them off to school. Whether it's your first child or fifth, the dreaded end-of-term exhaustion is still real, especially for the teachers.
The marking is piling up, the behavior dynamics in the classroom are changing, and everyone is stressed and confined to classrooms, timetables and deadlines. The meetings seem to be taking up the spare time that is left, the ritual of report card writing has begun, and everything feels like it is happening at once. Oh, and don't forget about the life your teacher lives outside of work -- their own families and responsibilities after hours.
Their brains likely feel like putty right now, struggling to remember minor details. Maybe the words don't seem to be coming out right. There's a likelihood they are reaching for that second coffee as you read this (okay I was being modest, it's their fourth) or craving that evening wine to calm the nerves.
The demands are tough, but teachers are tougher.
Your child's teacher has possibly spent the past couple of hours reading 32 versions of the same question while marking exams or feels like banging their head against the wall when it's evident that some of your child's classmates did not correct those marked errors during the drafting process.
At this time of the term, some students develop amnesia -- they don't recall information being taught which is on the exam or remember that today is the due date for their assignment.
The teachers worry about catching that dreaded virus going around the school -- because some a sore throat and heavy fatigue is exactly NOT what we need right now.
It's been a crazy few weeks, but these weeks only serve to lead up to the mountain they are about to climb over during the next three to four weeks. Holidays seem so close, but the 'to-do' list is stupidly long. Spare a thought as they look at the work ahead and wonder how they will ever get through it, or momentarily dream about running away to join the circus, or wish that they chose an easier career path.
And, sadly, your exhausted teacher isn't the only one. Forty percent of teachers (out of a graduating group of 11 000) leave the teaching profession within the first 12 months after graduation. The majority of these teachers leave due to the demands of the job and eventual 'burn out'.
The demands of the job are large, but guess what? Our teacher hearts are larger. The world of teaching can be so brutal, yet so beautiful. So much love. So much honesty. So much space to grow and mature. So much to accomplish, yet so much excitement when it finally comes to pass. So many rewards, yet so much work and faith that goes into getting there. The demands are tough, but teachers are tougher.
Your child's teacher may be exhausted and ready for early retirement. But you know what keeps them in the job? Their 'why'. Forty percent may have quit, but 60 percent took a positive stand and allowed their 'why' to help them stay in the job.
They remember and relive the positive moments often. Like the first time they got offered a teaching position in their own classroom after years of shadowing someone else. Or the first time they had an opportunity to step into a classroom full of hope for the students in their care, placing posters on the walls and writing little welcome notes. They remember the excitement and mystery of the identities of children they are about to impact forever. They remember every positive note your child or another classmate wrote, and the cool little birthday gifts, and the flower after lunch just because.
We remember the Food Technology kids who offer us a cupcake after class because they want to show off their culinary talents. We remember those times we helped your child finally understand a concept they were struggling with for a while.
Please take the time to thank your child's teacher for the hard work they put in to educate and positively influence your kids.
Whatever it may be, the teachers who stay focus on those moments. They are the fuel to keep them pushing along through the exhaustion. They give teachers clarity to keep going rather than sink.
Educating a child to conquer the world is hard work -- if it were easy everyone would become a teacher. It's a job made for the toughest, most organised, loving and courageous souls. Teaching is one of the few careers which impacts and changes the world. No job can exist without a teacher to educate. They are part of the village which creates doctors, nurses, pilots, writers, politicians, trainers, business people...
So parents, please take the time to thank your child's teacher for the hard work they put in to educate and positively influence your kids. Believe in them as much as your children believe in you and show them the love and compassion they deserve. Be patient when they are exhausted and the days are tough -- they are doing the best they can with the time and resources they have.
ALSO ON HUFFPOST AUSTRALIA