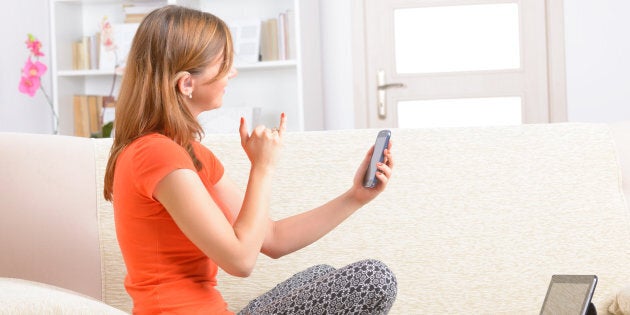 Australians are social animals. We love to spin a yarn, chinwag or yabber with our mates. In fact, we love communicating so much that Australia's 23.3 million people own more than 31 million mobile phones and use 9 million landlines.
Our chats -- packed with jokes, gossip and the odd whinge -- help make us who we are and connect us with the rest of the world. Our phones are also a quick and easy way to organise our daily lives, vital to our independence and crucial in many emergencies.
But imagine what life would be like if you couldn't just pick up a phone and talk to a friend, loved one or colleague. You couldn't phone for a haircut appointment, change a restaurant booking, or call a help desk.
This was the reality faced by Australia's deaf community until 1995, when volunteers created a service that is little-known in the hearing community but is much-loved and depended on by the deaf.
The National Relay Service, now controlled by the Australian Government, enables the deaf to communicate with the non-deaf over a phone line. For instance, the captioned relay service uses voice recognition software to allow a deaf caller to speak into a phone and then read the call recipient's replies on a screen. Those who rely on sign language can make a video call to a relay officer who will then 'interpret' the message over the phone to the call recipient.
There are a number of other National Relay Service systems to help people with different modes of communication and call requirements. Combined, these services have made it easier for the deaf, hard of hearing and people with speech difficulties to lead fuller lives, build stronger relationships and increase job opportunities.
But this vital service is now under a cloud.
The Federal Government is conducting a comprehensive review of the National Relay Service and the questions being asked have deeply concerned Australia's deaf community. The Department of Communications and the Arts has stated that the cost of the service is an issue and that the deaf can instead use email, Facebook and live chat services "if they want to". It has also suggested that services could be rationed by the introduction of 'fair use' policies.
I would argue there is nothing 'fair' about restricting, abolishing or charging a premium for the National Relay Service when telecommunication services are readily available for everyone else.
Naturally, the service is popular and costs $22 million a year to run -- but it is not funded by taxpayers.
It is financed through a levy paid by large telecommunications companies, such as Telstra and Optus, and does not deprive schools or hospitals of a single cent.
The Federal Government may be concerned that the rising demand (use has increased by 25 percent in the past two years) for the National Relay Service will force it to increase the levy on the industry or even dip into taxpayer funds.
But demand is increasing because the service is adapting to provide video, captioned telephony and SMS-based communication options. Not surprisingly, deaf people are taking advantage of these new services and enjoying the freedom to communicate that the rest of society takes for granted.
But because our need to communicate is finally being met, the Federal Government's unfortunate response is to question the very existence of the National Relay Service.
The review has provoked disquiet among deaf people -- understandably so. Modern Australians rely on their phones to work, study, make appointments, buy goods, pay bills, keep tabs on their kids and deal with bureaucracy. Phone communication has become integral to how we live. The ability to communicate should be the right of every Australian, regardless of whether they are hearing, deaf or people with speech difficulties.
Deaf Australia is not asking for a hand-out from the Federal Government. We know there is huge pressure on the public finances. However, the funding system for the National Relay Service works and, if need be, the levy could be increased.
Telstra and Optus may well ask why they should dip into their profits to support the deaf community, but deaf people may ask why they should pay for line rental and other charges for services they are not able to utilise fully. The cost of the National Relay Service is modest -- just 55 cents a year for every phone in Australia. Considering Telstra makes more than $4 billion a year, the cost is a drop in an ocean of profits.
Our message to Communications Minister Mitch Fifield (as well as his predecessor Malcolm Turnbull) is a plea for fairness.
We believe Australia should be inclusive of all people. Non-deaf people have no restrictions on their phone services, so why should we be treated any differently? Being deaf can be an isolating experience but the National Relay Service has given us another bridge to communicate with others.
Please don't pull down that bridge. Our world needs fewer barriers, not more.