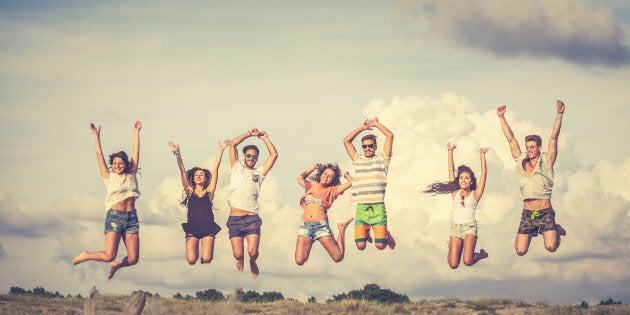 I was going to write a post about how awesome my son is, because sometimes my pride in him overflows. Then I realised that's a bit egocentric and nobody really wants to read 600 words about my son.
But maybe I can force them to read about his friends, because I think we should be shining a little bit of light on how awesome most teenagers are, not just my son.
It came to me the other day when my phone started pinging with messages from my son's friends on my birthday. I thought back to my own self at 16 and wondered if there were any of my friends' parents to whom I would send such awesome birthday messages.
But this isn't about the parents, it's about the kids who are kind and thoughtful and expressive and communicative -- all things I wasn't at 16.
My experience of teenagers is admittedly mired in privilege and I acknowledge that this may result in my very positive view, but nonetheless this is an age group that is often maligned for their impulsive behaviour, their binge drinking, their backchat and their disregard for rules and regulations.
But my son's group of friends has opened me up to people I have come to know and love as funny, smart and communicative.
I couldn't help thinking about these kids when I heard a transcript of Pauline Hanson in parliament on June 21 saying "our educational system is now teaching our kids their rights and then they say 'your parents can't tell you what to do because you have your rights'. And then when they go home the parents tell them something and then the kids say 'you can't tell me that, I know my rights'".
The teenagers I'm talking about know their rights. They have been taught about responsibility and respect in tandem with learning about their rights as people. They know what they think and say is important and they know their opinions matter.
Yes, they are privileged, mostly white, middle-class kids and I know they acknowledge that privilege, but I can't help believing that children who learn to respect themselves, learn to respect others. Children who acknowledge their responsibilities learn to care about others. Children who learn how to communicate their rights, learn how to show the world their bright sides.
I'm no Pollyanna and I know that these same kids are also 'normal' teenagers, some of them are experimenting with alcohol even though it's illegal (possibly mine), some of them aren't always the most helpful humans around the house (definitely mine), some of them tell their parents variations on a story (probably also mine) and some of them would rather lie in bed surrounded by screens than do homework.
But they are also incredible friends to each other, they hold down part-time jobs, they give to the less privileged (thanks to amazing programs through their school), they support each other and they talk and communicate with each other, even with their parents and their friends' parents.
There is a lot to be said for knowing your rights. Being aware of your rights is the first step of self awareness and as experience has shown me, self-aware kids make tremendous teenagers.
___________________________
You can follow Lana on Facebook here.
ALSO ON HUFFPOST AUSTRALIA