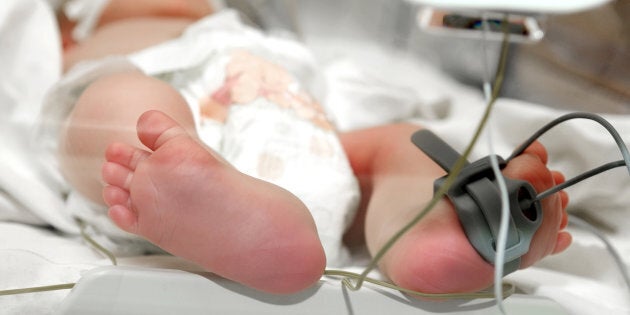 It was more than 15 years ago that I had my only child. Like a lot of other mums, I remember it like it happened yesterday. I remember the weather outside, the look on my husband's face that morning, the prick of the epidural and the very strange feeling of someone's hands jiggling around inside me while essentially gathering my baby from my womb.
But unlike a lot of other parents, I don't remember a lot of joy from that day.
I remember the face of my specialist that morning when she came to tell me that we were going to have to have the baby that day, even though it was 10 weeks before he was due. I remember the fear coursing through my veins, I remember feeling absolutely out of control. I remember there being a team of neonatal staff in the room to whisk my baby away. I remember them telling me he could breathe on his own and then later them telling me he needed to be ventilated. I remember them passing him, wrapped in silver insulation like a kebab, past my field of vision so that I could see him before he was whisked to intensive care. I remember my placenta, white and glutinous, being packed in a takeaway container for testing. I remember thinking "that's not what placentas should look like". I remember throwing up a lot.
And it didn't really get any better. Well, not immediately.
For two months, we spent days and nights at our baby's cribside in the neonatal intensive care unit. No soft lullabies, no muted lights and extended cuddles. Alarms, monitors and so much machinery. That was our "nursery".
I cry every time I think about it. You can't sit in an intensive care ward for two months and not cry. Well, I can't. And now I see that I am not alone.
A study conducted the Murdoch Children's Research Institute and released this week suggests parents of very preterm babies are seven times more likely to suffer depression. Researchers found 40 percent of mothers and 36 percent of fathers suffered from depression in the early weeks after the birth of a premature baby compared with 5 to 6 percent of parents with depression after the birth of a full-term baby (born after 37 weeks' gestation).
And it wasn't just depression. Anxiety levels of parents of premature babies were also well above average. I think that, had my husband and I been included in this study, we may have tipped the scales.
It wasn't a great time for us. Not personally and not in our relationship. Which was odd because the product of it all was the best thing to happen to us. But we were lucky. We got through. With support, with therapy and medication (for me) and with time.
The first year was hard. Sick child. No sleep. Lots of stress.
But 15 years have passed. And while the memory of those early days still stings when I think about them, there are other memories that squash those bad ones into the tiny creases in the corner of my mind.
What I remember on a daily basis is the joy our child has brought to our lives. The love, the hope, and the kindness. The mess, the chaos, the warmth, the laughter, the lessons and the light.
What I remember is it's not the birth that matters, it's the life that you live after that.