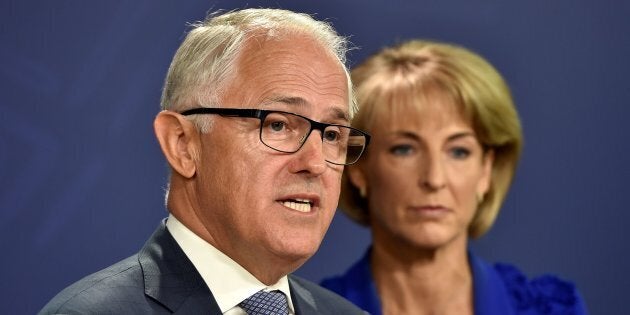 This week, Malcolm Turnbull said that he considers himself a feminist. I'm pleased that, unlike the Deputy Leader Julie Bishop, or his Minister for Women Michaelia Cash, the Prime Minister recognises that "feminism" is not a dirty word. But I can't help but feel that his claim to feminism rings hollow.
Malcolm Turnbull is not what a "feminist" prime minister looks like.
A feminist prime minister does not lock in Tony Abbott's $500 million cuts to domestic violence services, and affordable housing when women are being turned away from crisis centres every night.
A feminist prime minister does not ignore the calls of community legal centres who are facing a 30 percent funding cut next year, and are already turning away 150,000 people every year in the middle of a domestic violence crisis.
A feminist prime minister does not lock up innocent women and their children in hell holes offshore where they are exposed to unacceptable violence, sexual assault and inadequate healthcare.
And a feminist prime minister does not fail to make childcare affordable and accessible for women so they aren't forced to choose between their families and their work.
Malcolm Turnbull might call himself a feminist, but his policies certainly are not.
We are facing a domestic violence epidemic in this country and we are failing the women, and their children, who reach out for help and whose calls go unanswered.
One in three Australian women over the age of 15 has experienced physical violence. This epidemic costs the economy $13 billion every year. It is the greatest contributor to death, illness and disability among women between 15 and 44 years old.
A feminist prime minister would recognise the enormous potential that is going unrealised in every woman who we fail to support that is trying to escape violence.
Feminism belongs to those who believe in equality for women, and who are willing to work to achieve it.
It breaks my heart and defies belief that my daughter is growing up in a world where men's contributions are still valued more than women's -- in our businesses, in our boardrooms, in the media and in our Parliament.
It is extraordinary that, in 2016, we are still fighting to be paid an equal wage; and, in states such as mine in Queensland and in NSW, abortions are still considered illegal, and most tragically, that domestic violence is now killing two women a week.
The Greens will always stand up for women.
We have pledged $5 billion for domestic violence services over 10 years. Currently women are being turned away from under-funded shelters. We can afford to make sure no woman reaching out for help to escape domestic violence is turned away by removing the unfair tax breaks the very wealthy receive in the form of negative gearing, super tax concessions and capital gains tax concessions.
Why should women be turned away from under-funded shelters to face homelessness, while taxpayer funding goes into discounting the purchase of multiple homes for the very wealthy in the form of negative gearing?
A few weeks ago I launched our election policy for safe, accessible and affordable abortions for all women. Access to affordable sexual and reproductive healthcare, including abortion and contraception, is part of every woman's right to control her own body. Unfortunately this right is still under threat from the hard right of Malcolm Turnbull's party, and the malaise in the Labor party who haven't yet fixed this century old law in Queensland.
Women account for more than half of all undergraduate students in Australia, but are consistently underrepresented in the science, technology and innovation fields. Australia needs more women in science and innovation. That's why the Greens have committed to investing $50 million per year in grants to research and innovation organisations to help them attract and retain women workers.
Feminists believe that men and women should have the same opportunities, rights and power as men.
We have an enormous amount of work to do before we reach that goal. And, while I am pleased the Prime Minister can clearly see the power of feminism and the feminists who are campaigning for change, Australian women are not served by lip-service.
And a feminist prime minister would know that.
Queensland Senator Larissa Waters is the Australian Greens Deputy Leader and spokesperson for women.