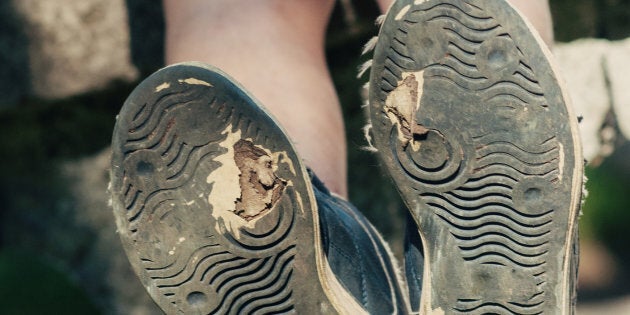 I grew up middle class. Like everyone I knew, my parents did it tough in the early 1990's recession. I vividly remember not being able to buy new shoes despite having gone up a shoe size and my sneakers having holes in them.
But the business came good, interest rates went down and I got new shoes again.
When my now ex-husband and I moved in together, he had a job and I was a uni student. We had just signed on to our first mortgage and we were officially living on the poverty line. Not poor but right on the edge.
Fast forward 10 years and I became a single Mum on a wage well below the poverty line in one of the most expensive cities in Australia.
I didn't have the emotional or financial resources to lie to people so I told anyone who asked that I was poor. This included charity collectors when they claimed I wouldn't notice $5 a week -- it was just a cup of coffee after all.
Does no one understand that a cup of coffee was out of reach for me at that time? When you can't make rent, you really don't "treat" yourself. You can't.
Looking back with three years of hindsight, I was so open about my poverty because I confidently expected it to be temporary. You can tell people you're having a hard time. It is much more difficult to admit that difficult is the new normal.
Difficult is my normal now.
I'm not as poor as I used to be. I moved city. I found cheap rent. I navigated the horror story that is social security in this country. If I'm very careful, I can afford to get take away once every few months now. Sadly this is what "making it" currently looks like to me.
I buy everything but underwear from op-shops and I've become mostly vegetarian – lentils are really cheap. Looking forward I go one of two ways:
It will all be fine. My book will get picked up and I'll be able to pay for things again.
There is no hope. The economy is shot. I'm going to be poor forever.
This is the more compelling thought train as I sit and shiver because I can't afford the heater.
I wonder if I would face this differently if I grew up with it. Would I have developed coping strategies to hide the facts from my friends? Would I have developed shame around my finances? I don't know.
But I do know that until we have enough people really talking honestly about what poverty means for them, the people on the hill, the ones preparing to cut benefits, won't have a frame of reference other than a cup of coffee -- something so insignificant to them that they dismiss it.
$5 can make a difference. I know, it made a difference for me.