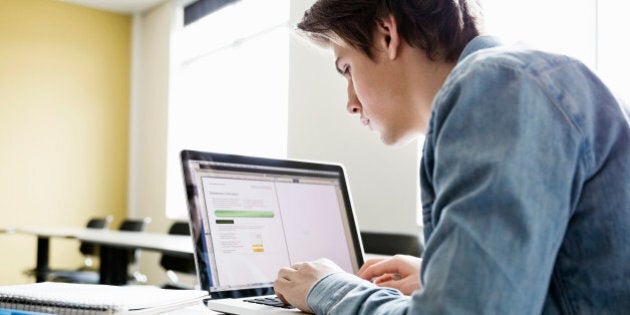 I have taught in High Schools for two decades now, both in the private and the public sector. My career has seen the greatest revolution in teaching since the industrial revolution concept of schooling was developed, and it all has to do with technology.
Don't get me wrong, I love technology. I love it as a teaching tool. I love having the opportunity to blog and I participate in the social media universe. The Smart Board is a brilliant teaching tool and Apple TV's and iPads make so many things so easy. Videos, research information, student data, school reports, parent teacher bookings are all made convenient by technology. However, it is a double edged sword.
Teaching has become more complex. A blog recently in The Huffington Post highlighted how teachers are now solving traditional parenting problems within the school and how parents are asking for more and more advice in how to deal with teens and social media, sleep patterns, and choices of lifestyle. This is not just limited to teens' use of social media. It is in the entire way they work and exist and it is having a devastating impact on teachers and school communities.
You see, the students and parents now have 24-hour email access to their teachers. Students, particularly seniors, are prone to working very late at night. It is not uncommon to check one's email account in the morning and find a multitude of practice essays and work submitted at 2 or 3 am.
This is all fine until you enter the classroom that day and are confronted with, "Sir, what did you think of my essay, did you mark it? Could I have the feedback please?"
And when you reply with, "I was asleep when you sent that and I have been teaching solidly this morning, so...no, not yet", you inevitably end up with a very frustrated student unable to comprehend that you were not able to instantly reply.
Where once a teacher would happily mark 25 practice essays during a planned evening's marking session, the work now just comes in relentlessly and with no forewarning. This generation are used to the instant response on social media and are demanding this with their schoolwork.
They know their rights, they expect official notification for everything, they expect fast turn-around of information, and instant reward for effort. Remember, this generation are but a few years away from the full-time workforce. They expect a 24-hour work cycle. They do not differentiate between work and leisure time, it is all the same to them. They are constantly at work due to the fact that they are constantly in touch with work. If you expect your new junior colleague to leave you alone on a Sunday you will be unpleasantly surprised.
In much the same way teachers are giving parenting advice on bullying, teachers are now giving parenting advice on how to keep a HSC student working and studying whilst outside of school hours. Study notes don't wait anymore, they are emailed the very evening they are created, and with the demand for instant feedback.
So what do we, as a profession, need to do? Do we raise our fees? Do we invoice parents for extra work outside of our award? Is it fair that the young, single, childless teacher gets accolades for coming in on Sunday to run an extra lesson when the hard working and professional teacher who is also a parent, partner, homeowner had to use Sunday to spend time with his or her own children, cook dinner, clean the house, and gets overlooked for recognition?
Teaching has always been about the goodwill work. If it didn't happen, many students would never make it to Year 12. Extra hours, committed planning and marking, evening meetings, lunch meetings are part of the teaching world. By now most people know it is not a job that finishes at 3.30 pm, nor does it have 10 glorious weeks off. It may have 10 non-teaching weeks but at least six of those are spent planning, developing and marking. Without them the burnout rate would be 100 percent.
Now that technology is ubiquitous and the instant generation are at graduating level it is soon going to become an impossible task indeed.