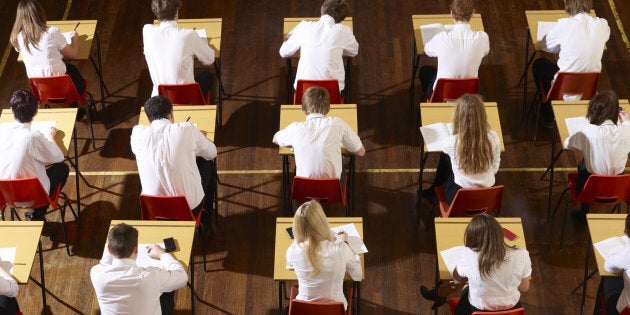 In my home, there's only one thing worse than three kids sitting the NAPLAN test at the same time. The day the results come home.
One child managed to hide his results for three days. I found it under a squashed banana in the bottom of his bag. It really stank. In fact, it was the stench that led me to the discovery of his results in the first place.
I don't blame him. I, too, would have shoved my results under rotting fruit if NAPLAN had been a thing in the '80s.
I only knew that 'the results' were on their way because a handful of Facebook friends posted updates about their kids' FANTASTIC results. I have nothing against parents posting proud updates. I love to read 'proud mama' posts. But not when they're about NAPLAN.
Apart from those proud parents, the majority of my friends -- some of whom are teachers -- think NAPLAN is like rotting banana. It stinks, it causes angst and it's of minimal use to anybody.
Dee*, mother of four, said: "When one of my kids came home with a below-average result, well under 'the dots' I said 'Don't worry. I never wanted an average child, you are perfect to me!'"
Jess*, mother of two, said: "My 9-year-old was so focused on NAPLAN and worried about the test, it was too much pressure at too young an age. All NAPLAN achieved was to set him up to worry about any other tests in the future."
Kate*, a secondary English teacher and mother of one, said: "On a larger scale they provide some somewhat useful data to the school, but individual results just cause unnecessary stress and are so delayed that the feedback is pretty much moot."
It's no secret that every child develops differently at different times. As a mother of twins, I'm always struck by the fact that two kids can be conceived, born and raised the same way, yet both develop mentally and physically in their own sweet time.
Surely, having them in a system that expects them all to achieve the same level at the same time is a bewildering concept?
Fiona*, a mother of three, had 'unschooled' her kids for four years before putting them back in the education system.
"My eight-year-old and 14-year-old received their NAPLAN results. Even knowing what I know from the benefits of unschooling and knowing what I know about the major faults in our education system, my heart still sank. Funny how even though you know better, this stupid Napalm testing got to me," she said.
(Auto-correct changes NAPLAN to Napalm. Ironic, huh?)
A teacher friend, Carol*, thinks standardised tests are basically a measure of your postcode.
"It's clear from its long history in the US that this kind of testing leads to all sorts of negative outcomes -- distorting the curriculum as teachers teach to the tests, blaming teachers and schools for 'poor' results that are largely beyond their control. The information provided is such a minute fraction of what a good school does, or what a student's unique pattern of skills and learning looks like. NAPLAN is given far more weight than it can carry," she said.
"It's one thing to identify kids at risk, the important and difficult part is providing the resources to help them."
I grilled another friend, Katerina, whose daughter goes to an 'alternative' progressive school on Sydney's Northern beaches. The school does not allow NAPLAN.
She believes all testing is based on fear.
"It's a fear of not measuring up, not doing as well as the person next to you. It's based on the parents' fear of their child's future in an economically driven society. What people are afraid of is a notion that if you don't do well at school, you won't get a good job. You won't do well at life," Katerina said.
"My child's school is able to gauge a students' progress through assignments, collaborative projects, story writing, essays and maths, through day-to-day classroom work. The teachers are attentive to the students' progress because they know them so well and they feel no need to rank them against each other. The kids also fill out a 'self-report' where they answer questions such as 'What are you struggling with?' or 'Where do you think you can improve?'"
If schools continue with NAPLAN, why not keep the results to themselves? It would save a lot of heartache and, perhaps in some households, screaming matches. The parents (and the kids) already know whether their child is average, excellent or struggling.
Let's face it, NAPLAN is just statistics. It doesn't measure how wonderful you are, how kind you are, or how much capacity you have for understanding things deeply.
It certainly doesn't measure how imaginative and creative you are. One of my kids might struggle with school work but he's brilliant at composing his own songs, climbing trees, kicking balls, saying "I love you" out loud and, regularly, making his friends laugh and making the world a better place with just one flash of his pearly whites. There's no multiple choice test for those wondrous things.
I'll give the final word to my friend Meggie*, a mother of two boys, who STILL have their NAPLAN results shoved in the nether regions of their backpacks.
"I haven't even asked to see either of them, as zero f**ks are given."