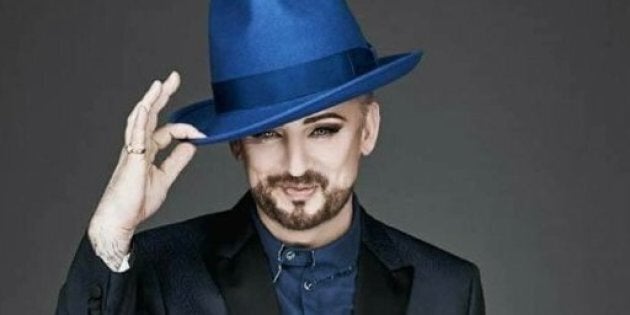 The '80s was a fun time to be a teenager. Almost everything was crazy and uncomplicated: big hair, poodle perms, fluoro t-shirts, Choose Life, bubble skirts, zero technology, Molly Ringwald as teen-angst-role-model, WHAM!, INXS, Madonna, the excitement of waiting a week for the chemist to process the photos you took at your friend's 16th (yeah, nah, that part was just infuriating), Blondie, Duran Duran, Pseudo Echo...
And then there was Boy George. He burst onto our radios and TV screens with the sweet and soulful Do You Really Want To Hurt Me? And nobody knew exactly who he was.
It wasn't long before his face was blu-tacked on my bedroom wall alongside my other idols. Yet among the multiple posters of Le Bon,Taylor and Rhodes (Duran Duran), there was only one poster that grabbed the attention of the older generation.
"Who on earth is that?" asked my mother. "A boy or a girl?"
And Boy George still matters. Here's why:
He was one of the first openly gay pop stars
Being gay wasn't a main focus, nor the fact he had teens of both genders screaming his name. It was about daring to be different. His image was all about declaring 'It's OK' in an era where our parents might not have agreed that it was OK. Boy George made it okay for anybody to wear makeup, wear whatever you God-damn want and to keep everybody guessing.
The Makeup
In the romantic pop era of the '80s, or 'the pretty-boy era', Boy George was the only man to wear full face makeup. This was completely different from the members of KISS who used makeup as a mask. Boy George did his makeup beautifully.
Philip Oakey from Human League was handy with the black eyeliner but that's as far as he got. Boy George wore loud and colourful Max Factor. George once said: "Basically, one of the things that I discovered when I was a teenager is make-up and the power of transformation. I never looked back. Make-up for me is my mask, my protection."
The Fashion Icon
Boy George was a true fashion icon because he wore what everybody else would not wear. Similar to Madonna and her 'underwear as outerwear' it wasn't the kind of fashion anybody could easily mimic. Boy George owned the flowing tunics and quirky hats.
If you google 'Boy George costumes' you'll see he's still a popular theme party dress-up too; surely the mark of a true icon!
Dealing with the Haters
Boy George has had years of dealing with the haters as well as widely documented battles with substance abuse and other dramas. But he managed to bounce back and reinvent himself, which is no small feat.
He should be greatly admired for this, as well as being a true survivor. If you follow his Twitter account you'll see he hasn't lost his biting wit and delights in getting rid of the haters in the new-fashioned way by tweeting 'you're soooo blocked!' He also has a great sense of humour.
The sweet soulful music
For me, it was also about the music and I still love Culture Club. There were some that said you couldn't possibly be a Duran Duran fan and love Culture Club too, but I did and still do. My favourites: Karma Chameleon, Church of the Poison Mind, I'll Tumble 4 Ya and Miss me Blind.
Culture Club also had great album titles such as Waking Up With the House On Fire, Kissing To Be Clever. My all-time favourite song: Victims (The victims we know so well, They shine in your eyes, When they kiss and tell).
Gender Issues
Boy George was a true trailblazer and it will never be known how many people with 'gender issues' he must have inspired over the years, simply by being androgynous and famous. Boy George made being androgynous perfectly okay.
The Die Hard Fans
My school friend Nada Cash was the biggest Boy George fan, her walls were covered with his posters, there was never anybody else for her. In her words:
"I was simply fascinated by Boy George. I still am. I loved his androgyny and attitude. He gave permission to push boundaries. I simply loved him and still do. When I was 15 I filled out 1000 envelopes to enter the competition to fly to Sydney to meet him. I was utterly devastated I didn't win. Truly gutted."
Boy George the original
In a world overwhelmed with copy cats and idea thieves, Boy George was so beautifully original. I'm so glad a new generation is now seeing another side of Boy George, as a judge on 'The Voice', where he's perceived as not only a legend but a kind-hearted man -- he's already promised to help two young Australian artists for whom the chairs did not turn.
Boy George has always shown a lot of bravery in his choices and that's why he's still so relevant today. Thank you, Boy George, for daring to be different and, above all, contributing to the amazing '80s soundtrack of our youth.
Boy George: "There will always be people who love you. There will also be people who don't, who will not understand. Focus on the people who love you. That's where you put your energy."
ALSO ON HUFFPOST AUSTRALIA