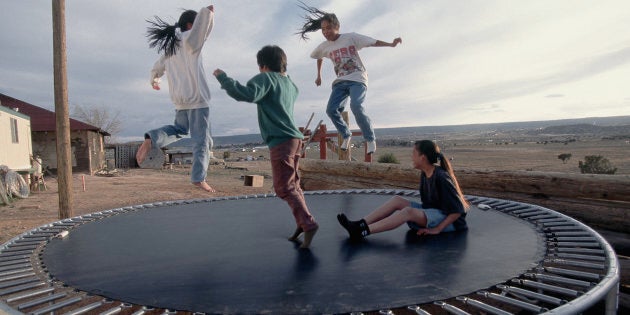 When most people think of the '90s, they think of bootleg jeans dragging on the ground, undercuts and Will Smith's life getting 'flipped-turned upside down'. I spent the '90s living in my childhood, overdosing on Zooper Doopers and constantly covered in bruises.
While walking down the street recently, I watched a group of kids argue the merit of claiming a dropped chicken nugget off the ground. It took all of my self-control not to swoop in, scoff the crispy goodness and yell "three-second rule, losers!"
I was struck by how their childhood is a hell of a lot different from mine. Back in my day, that nugget was a goner.
Below is a list of the things that have died out since my childhood, that shaped me to be who I am today, that gave me a fighting chance.
Who doesn't remember heading down to the Milk Bar with two dollars and rolling around the streets with their pockets stuffed with Push-Pops, Redskins and (sugared) bananas?
The best birthday parties were always at Pizza Hut. Cramming 10 pieces of supreme and washing it down with three bowls of topping-covered soft serve -- it was the greatest time to be alive. And, there were no parents lingering over your shoulder counting every calorie that you were eating.
Trampolines with no walls.
I adored my trampoline. I was going to be an Olympic gymnast after all (which really worked out for me -- not). You can't have all the sugar without consistent exercise, and mine was bouncing.
My trampoline did bounce -- these days they have walls and provide more of a 'jolt' than a bounce sensation. And, if I didn't sail across the grass and face plant on countless occasions I truly would never have been able to deal with the physical pain I experienced from grown-up injuries later in life.
Every bump, bruise and scar was a tattoo of no fear.
Being locked outside all weekend.
I'm not saying my parents didn't care, but outside was for children and inside was for grownups. If the street lights weren't on, inside was a no-go zone.
We pretended we were the 'Mighty Ducks', we played basketball with our neighbours and we formed street gangs that terrorised the footpath with hopscotch courts.
I sadly can't remember the last time I saw children playing outside on the weekends in my suburb. How are they meant to build up their immune system if they don't have a redback-spider-riddled secret hide out like my brother and I did?
I had two heroes in my childhood. 'Madame Butterfly' carving the 100m butterfly and Harold the Giraffe from the Life-Ed van. Both were clean cut, inspirational and were never caught up in drug scandals.
These days, kids have posters of Kim Kardashian in their rooms, know every word of every Miley Cyrus song and our teenage prodigies would rather catch Pokemon than win a title (looking at you Mr. Kygrious).
In sport, there's winners and losers, and taking is reward enough. Not keeping score in under-12's footy games and handing out ribbons for participation makes absolutely no sense to me. When else are you meant to develop the foundation of picking yourself up, getting over it and getting on with it?
I overheard an 11-year-old girl on my train last week stating that she couldn't wait for her bronzing-contour kit to be delivered. I had only one thought for this: "No. Buy your face glitter, blue eyeshadow and butterfly clips and do your time."
My lunchbox was simple. There was no sushi and no quinoa. I had a peanut-butter sandwich and a fun-sized Milky Way. There was also a banana and a packet of light and tangy chips. I've just had my medical check-up, and I'm alive. And so is everyone I sat with while I ate it.
We live in the age of 'equality', yet, never has there been so many labels. I didn't go to an 'inclusion' school, nor did we have special programs. We only had students. There were teacher's pets, naughty kids and smelly kids who ate their highlighters, but we were all the same.
My family was famous for Christmas, and we had the best Christmas Eve party in the state. It's only now that I realise that my parents were tizzy, that they had to build table tennis tables at 5am and that the 'Rudolph' footprints were actually stiletto stains.
The best part of all of it was, we said 'Merry Christmas.'
Most families of my generation would cart their kids up to Movie World at one point or another, but as plane travel was not as cheap or accessible in the '90s, international trips were rare.
We spent every term break in caravan parks. We BMX-ganged around, unsupervised, and spent all of our parent's money on sugar at the canteen. The children also slept like dominoes in the annex, while the parents got rip-roaringly drunk as of 10am.
I could have skewed this story on the change of entertainment and socialising -- TV and iPads vs. books -- which is completely relevant and not easy to control. The whole point is, we fell down, we ate sugar (and peanuts and carbs and chips), wore the most unsexy clothes alive and we competed, ferociously. Here I am. Alive to tell the story.