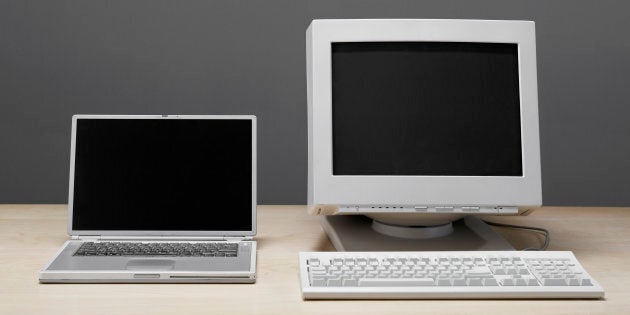 This week marks the week I first started using you 21 years ago. It was the summer of 1995 and I remember it like it was yesterday. My brother and I raced home from school after spending weeks bragging about becoming an 'internet house'. We fought over the brown scrappy desk chair and stared in amazement at the glittering, perfectly square-shaped box before us.
My Dad proudly clicked on 'connect'. We danced to the dial tone, and we waited. And waited...
You began as a novelty to me and now my three-year-old niece has a LinkedIn profile. I am so proud of what you have achieved and how far you have come in the past 21 years. I would like to present you with a cake (let's call it a 'cookie' cake) and a little thank you speech.
Thank you for teaching me new skills
If I hadn't spent countless hours listening to the dial tone, my little heart fluttering every time I thought you were just about to connect, I wouldn't have mastered Sims, Minesweeper or have one of the best recorded times on Solitaire. These skills really help me in my current day-to-day life.
Thank you for helping me get my first job
Remember that grumpy girl serving you your weekly, freshly baked bread? Her name wasn't Lisa. She went by her very professional and socially acceptable email name bad_girl, which featured on every resume she ever handed in to local retailers.
She got along so well with her boss that they exchanged personal emails. Bad_girl channelling sxc_chik-69.
Thank you for teaching me how to communicate with my first boyfriend
*Mindlessly stares at msn screen for 45 minutes
Sk8r-boi to bad_girl: sup?
Thank you for always letting me be myself
Actually, I must confess, you haven't always been great in this department. I can only hope that I don't have a colleague who used Yahoo Chat between the years of 1999 – 2004. If I do, yes, I am definitely Lisa Skinner, world famous gymnast and my cousin is Tom DeLonge from Blink-182.
Thank you for introducing social media in my later teens
Thankfully I no longer use MySpace to remind me that school shorts and stilettos heels are not acceptable and that you should never rank your friends in order of favourites -- publicly, that is. I'd like to also thank you, internet, for allowing me to use Facebook and see my 'on this day' memories.
Lisa Marshall -- February 2 2007
Best night EVAAAA. Someone bring me KFC pleaseeeee
I really appreciate you allowing social media to be easily accessible for most of the population, including my family, who after several months of leaving them in the friend request purgatory, I am guilted into accepting their friendship. I dutifully allow them to trawl (and like) 10 years of photos and to put perfectly normal and completely unnecessary comments on my wall.
Thank you for allowing Google to exist
Don't get me wrong, I have a special place for Yahoo and Ask Jeeves in my heart, but Google? You nailed that one. Google complements the copy-and-paste function perfectly. My university degree and I would like to thank you for bringing us together with Google.
Thank you for enriching my soul with culture
You were there for everyone in the days of CDs and CD burners. You kept me on edge whether I was going to hear the perfect symphonies on my Discman, or Bill Clinton exclaiming he "did not have sexual relations with that woman".
You are still here with your clever ability to provide countless (and fast) music sites that whizz invisibly through the air and land in my phone.
Thank you for providing endless hours of entertainment
I watched you grow from bored.com (still brilliant, by the way, and now a common phrase I love to abuse) to Netflix.
I can't thank you enough.
Thank you for teaching me to work smarter not harder
If I had a dollar for every time a watercooler conversation turned to the question "how did people work in offices before computers?" I could probably go part-time. Okay, I could probably go to Bali.
You've taught me well, Internet. People worked just fine without computers and the Internet, because they did just that, they worked. Thank you for changing that.
Thank you for keeping me on the edge of my seat
I have watched you grow from being a very slow-starting, fractionally dyslexic infant to living inside the pockets of the majority of the population.
Thank you for allowing me to access my emails in the air, follow recipes incorrectly and spend hours scrolling through "click here to view next image" pages.
I've heard the rumours about you stealing jobs, being implanted into brains and making people lazy. But I don't believe them for a moment.
Thank you, Internet. I wouldn't be the person I am today without you.