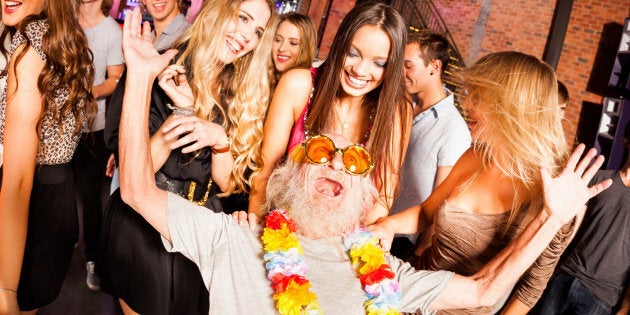 Daddy's girl, mummy's boy, we've all fallen victim to these clichés.
When my friends talk about their fathers, I immediately picture tough farmer men. Maybe even truck drivers. They have a hidden gun on the ready to chase away those boys that are lining up around the block.
My Dad isn't like that. Not at all.
Do you need an extra like on your Facebook photo? Text my Dad. He'll WhatsApp you straight back.
Do you need to know the newest and hippest bar in Melbourne that opened three seconds ago? He does that too.
He also mentors, life coaches and will consistently not listen to a word I tell him. Even though my father has a very successful career, he has a lot of emotions. I have spent many an hour wondering how he did it. How did he climb the ladder, how did he rise above the elite and non-socially awkward and demand respect? And then I remember, it's because he is awesome.
The only thing my Dad ever demanded of me was that I dance as much as possible when illegally night clubbing at the age of 17, just like he used to when he was that age.
Despite the non-listening skills, I've learned an immense amount from the man I call Dad. I often find myself repeating his (now it makes sense) life advice in my day-to-day life.
If it feels half-right, do it.
Fifty percent chance of success is good odds. It's better than living in 50 percent regret.
Your gums are the window to your health.
This may not have actually come from my father. This may have been fed into his impressionable mind by his dentist who now holidays internationally six times per annum. However, I am very rarely prone to illness, nor have I ever had a filling. Everyone, keep brushing!
In the past, I have imagined myself running my brother over repetitively with a car and not feeling guilty about it. Now, in adulthood and joint assets, I'm glad we both abide by this mutual (dis)respect mantra of just getting on with it. I will be teaching my new nephew to be just like him, just (a lot) better on the reliability side.
Don't burn the candle at both ends.
Where is the fun in being exhausted? Only ignite the party end, always.
Only gamble what you can afford to lose.
I also associate that with living expenses in general. Fancy new couch? No. I don't have the money in my bank account. If I don't have it, I won't spend it. Big spending is cool, if you can justify it. Dad; can you please tell this to the rest of my not savvy credit-card generation?
Television is mind-numbing and reading is escapism.
Sometimes you just don't want to be a grown up anymore. Even for five minutes. It's time to be modest, I've been keeping the libraries of Australia in business with re-hashed books for years. You're welcome.
There's always a shortcut or a back street.
Usually, neither option is more efficient, but it's fun to go against the grain. Who likes traffic anyway? What I do know is that Dads 'shortcuts' are not actually shorter, they just mean you can go faster in streets that hopefully no one is walking across.
Be grateful for everything.
Did you miss your train? Spill coffee down your top or get fired? Hey, it's okay, at least you didn't die.
My Dad doesn't judge my terrible life choices or my long list of equally terrible boyfriends. He just gets on with it. I've drawn deep breaths countless times to brace for myself on how to tell him I stuffed up this time. He doesn't laugh, he actually doesn't even acknowledge it, he just accepts, moves on, and tells me the wine I drink is too cheap.
I was pretty wild, but I could have been worse. And he never judged me for that. He was just grateful that I didn't opt for the worst, and if I did, he would have dealt with it.
Thank you, Dad. A million times over.