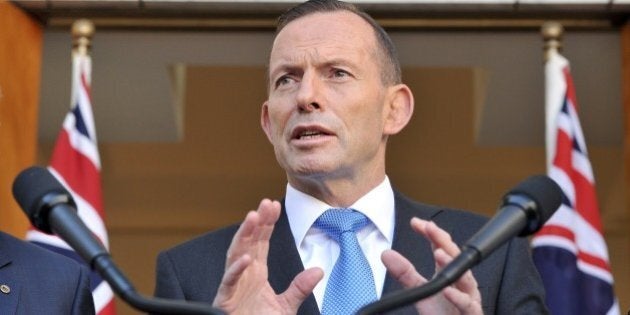 There has been much talk this last week of an upcoming Cabinet reshuffle, and I don't presume to make comment one way or another as to who should go where -- with one notable exception.
Mr Abbott, can I respectfully suggest that you consider handing over your role as Minister for Women.
This is no commentary on your Prime Ministership, or your handling of the myriad political issues with which you have to deal each and every day. It is simple recognition of an undeniable fact: that when it comes to acts of violence against women, this country is in crisis.
With 62 women now dead this year alone, and countless others either maimed, emotionally scarred, or living in fear on a daily basis, something is broken in this country, and it urgently needs to be fixed.
Australia has had enough.
Since this on the Today Show this morning, we have been completely overwhelmed by the reaction as Australians -- both women and men -- across the board demand action.
As a nation we have cried too many tears for women whose names we shouldn't know, but now can never forget. We weep for their children, their bereaved families and haunted communities.
Prime Minister, you have three daughters, a wife, a mother. You rely every day on a woman as your Chief Of Staff. We know you took on this role because you genuinely care about women.
For that reason, you need to hand the job to someone who can passionately and compassionately address, during every working hour of every working day, the enormous multi-pronged attack that is required to fix this growing national tragedy.
Firstly it needs resources. It needs to be acknowledged for what it is: a gaping wound that mere band-aids will not heal.
How can it be that right now, crisis shelters are being forced to shut down for lack of funds, and last year more than 18,000 calls to the national helpline from women desperate for refuge, for relief, for protection, went unanswered?
This enormous task needs the full-time focus of a person who is not only totally committed to the cause, but who has the time available to meet that commitment.
Of course this is not a crisis of your making. As a nation we are all responsible. But when the number of women dying has almost doubled in the last twelve months, we know that whatever is being done right now, is not anywhere near enough.
The way forward requires fierce focus, unfractured by the endless tugs on time that inevitably must go with the nation's top job.
Mr Abbott, when you became Prime Minister, you explained that in giving just one woman a cabinet position alongside 19 men, that there were plenty in the Coalition knocking on the door of the Cabinet room to get in. Surely then, there has never been a more crucial time than right now to let them in.
Put one of those many talented LNP women into the position, and give her the resources and the money she will need to go about fixing this.
Australian women, and the overwhelming majority of good Australian men will thank you.