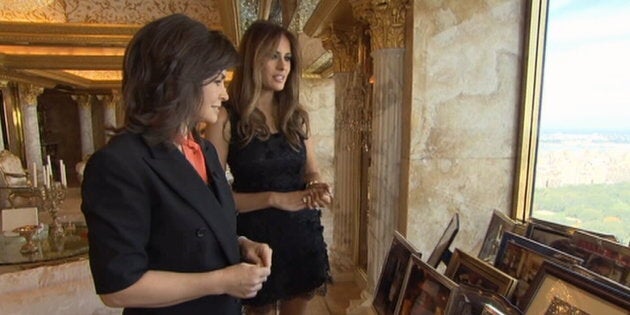 It was October 2011, and I was high atop Trump Tower in New York, being shown around his gleaming three-story penthouse by none other than Melania, now Mrs Donald Trump The Third.
Below us, the full expanse of autumn's stunning effect on Central Park was evident, with every possible shade of gold leaf -- much like the apartment itself -- unfolding across the treetops that mushroom across the immense parkland's 843 breathtaking acres.
From this vantage point, it really would be easy to think you were King of the World. And if the architect's brief was to create a building in Donald Trump's own image -- and it's hard to imagine it wasn't -- they nailed it.
Bold, brassy, gauche, unyielding, and a clear monument to the greed-is-good '80s.
And a woman's place in this world? Exactly.
Here, past the omnipresent security detail downstairs, behind the impossibly heavy and perfectly polished doors that form the apartment's gilded entry on the 58th floor, was a woman clearly living a disciplined life. Nothing in this apartment was out of place. Least of all Melania herself. As wife number three, she obviously knows the rules.
Donald Trump has always worked hard to surround himself with beautiful women. Miss Universe pageant, anyone? But when one is the current Mrs Trump, it would be hard not to feel like the clock is ticking.
What was that famous line from British industrialist billionaire Sir Jimmy Goldsmith: "Marry your mistress and you create a vacancy"?
The Donald, I am told, is out filming his reality show, Celebrity Apprentice, and will be home soon. By that time, my Today Show film crew and I -- here from Australia to talk to Melania about her extraordinary life -- need to be gone.
As extraordinary as it has all been thus far though, I wonder, could she have imagined that just five short years later, she and her husband would be riding the wave of possibly the greatest political upset in U.S. presidential history, by taking up residence in The White House?
But in the Age Of The Kardashians, where scandal, controversy, outrageous moments, and headlines-ANY-headlines mean power and influence on a previously unimaginable scale, is it any wonder that we have a reality TV star poised on the Presidential precipice?
Amazingly, nothing up to this point has stopped him inching ever closer to becoming the most powerful figure in the free world - not proven lies, not accusations of massive tax evasion, not racism on an industrial scale, not sexism that takes the breath away, not even unseemly insinuations about how sexually attractive he finds his own daughter.
But not even Trump's greatest detractors could have guessed at just how low the Republican presidential nominee could go until, on Friday, we learnt of his taped conversation with entertainment figure Billy Bush.
Trump: "You know I'm automatically attracted to beautiful [women] — I just start kissing them. It's like a magnet. Just kiss. I don't even wait. And when you're a star they let you do it. You can do anything."
Billy: "Whatever you want?"
Trump: "Grab them by the pussy. You can do anything."
Speaking of a married woman, Trump boasted: "I moved on her like a bitch."
If this is not enough to finish Donald Trump's candidacy – grabbing a woman "by the pussy" is sexual assault by the way – what will it take? If criminal conduct is okay, just what does Trump need to do, to be ruled out?
Fortunately, many Americans agree, most notably leading Republicans, with even his own running mate, Mike Pence, disowning Trump's words saying, "As a husband and father, I was offended by the words and actions described by Donald Trump...I do not condone his remarks and cannot defend them."
Hell, even George W. is planning on voting against him.
The trouble is, the bar is already so low with Trump, there is a chance that this scandal too shall pass and just add to the basket of politically incorrect badges his supporters wear with enormous pride.
But only if America lets it pass. There is a chance, just a chance, that the U.S. could truly seize this moment, and harness what is nothing less than days of national trauma, and turn it into something to make the their country, and the world, a finer, fairer place.
You see, I have a dream. A dream that in the face of this outrage, this disgusting attitude to women, America will rise as one and turn their backs on Donald Trump, at his every public appearance.
How wonderful would it be to see decent, right-thinking Americans, of all political persuasions, who have finally had enough, make a statement, start a movement. This far, and no further. You want to treat women as objects, judge them only by their potential as sexual playthings? Then decent America needs to take a stand.
All it takes is one simple but powerful gesture: #TurnYourBackAmerica.
If you too are outraged by the appalling language, the deep-seated hatred of women Trump displayed in that interview and many others, then #TurnYourBackAmerica.
If you have had a gutful of men like Trump thinking women are only good for one thing, then #TurnYourBackAmerica.
If you want to make a statement that it is time to create a better, more equal world for our daughters, then #TurnYourBackAmerica.
And if you want to give the big bully-boy a bit of his own back, and make him feel vulnerable and humiliated for a change, then #TurnYourBackAmerica.
Imagine the effect, if everywhere his motorcade went, every room he walked into, every public engagement he attended, there were Americans with their backs turned. He comes out of his hotel, he walks into a venue, he addresses a crowd... and Americans have their backs turned.
It would be a moment in history, a time for America to show the world that Trump's ascendancy has been an embarrassment, and the man himself is not worthy of such a revered and deeply honoured position as this.
Let the word go forth. You cannot treat women with that level of disrespect and, in turn, receive any respect yourself.
If you think this is not "locker room talk", as Trump claims, but a brute of a man boasting how, if you're powerful enough, and rich enough, you can even commit sexual assault with impunity, then...