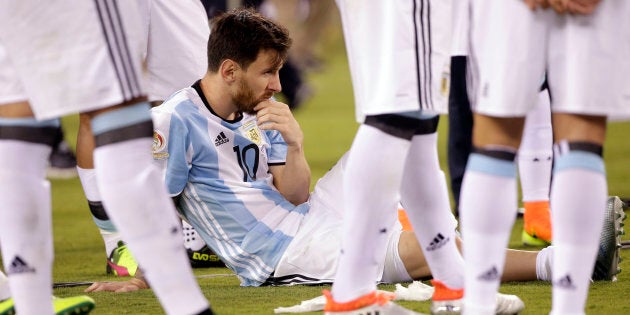 After 120 minutes without a goal in Monday's Copa America final against Chile, Argentinian football superstar Lionel Messi stepped up to the spot for his nation's first crack in the deciding penalty shootout.
Here it comes, we all thought, another goal like we had seen from Messi hundreds of times before. He stepped up, took his run, swung his famous left foot, and skied it straight over the bar. Messi missed.
And then came the tears from arguably the world's best player. He screwed up in front of thousands of compatriots in the MetLife Stadium, and he knew it. Some more shots followed, a super save from Chilean keeper Claudio Bravo and then Chile won their second Copa America title in as many years.
What we hadn't accounted for was that Lionel Messi was going to announce his retirement from international football after the game. This is huge news that has sent ripples throughout the football world, but it's the unsaid reasons behind his decision that will make you realise why this announcement stinks, whether you're a football fan or not.
"I've done all I can. It hurts not to be a champion," Messi said post-match. "I think this is best for everyone. First of all for me, then for everyone. I think there's a lot of people who want this, who obviously are not satisfied."
He was talking about the Argentinian fans, from who he has copped flack for the majority of his international career. Argentinians are some of the most patriotic people on the planet and for many of those fans -- particularly those who remember the glory days of the once poster boy, now God-like figure of Argentinian football in Diego Maradona, Lionel Messi isn't Argentinian enough.
He was not -- and is not, Maradona.
Despite being the current leading goal scorer for his country above Gabriel Batistuta -- the guy who won Argentina's last international title, and having won five FIFA Ballon d'Or International Player of the Year awards, four UEFA Champion's League victories and an Olympic gold medal, Messi has never won for his country what Maradona did in 1986 -- the FIFA World Cup.
It's this one historic title that has hung over the head of Messi like a dark cloud since his World Cup debut in Germany in 2006, and continues to put pressure on him during every match he plays for his country. It's the reason that he bears the brunt of immense criticism after each Argentinian game, but somehow his team mates manage to get away with their own poor performances.
Take Monday's final for example. Sure, Messi missed his crucial penalty kick in the dying moments of the game. But during the first 90 minutes that should have mattered the most, fellow Argentinians Ángel Di María, Nicolás Otamendi and Éver Banega all missed shots on goal. Sergio Agüero missed twice while Lucas Biglia also missed his final moment penalty. Gonzalo Higuaín also missed his shot despite being one-on-one with the Chilean keeper -- making it three finals in three years in which he's made terrible, game-changing mistakes in front of goal.
And yet, none of those other players copped as much of the blame as Messi did for the loss.
Sure, Messi may have left Argentina when he was 13 chasing a successful career with FC Barcelona in Spain rather than climbing the ranks of the Argentinian football scene, like Maradona with Boca Juniors in Buenos Aires.
Messi has class that Maradona didn't have in his time. Barcelona taught Messi about character on and off the field, while Maradona publicly battled a drug problem and was a loud mouth during his time at the top. Even if you look at Messi's closest rival, Cristiano Ronaldo, he isn't comparable in terms of his behaviour. While Ronaldo was busy releasing a documentary explaining why he's so good, Messi had his head down chasing the Copa America for his country.
It's this determination that has made Messi the best this generation of football has seen. And it's also what makes his announcement to retire from international representation stink.
Because Argentina, and the world, have lost arguably their most valuable player in the game, and they don't even know it yet.