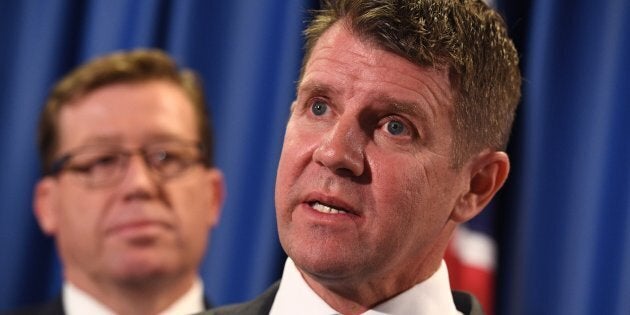 There's nothing like a tough by-election to concentrate a Premier's mind.
When he announced his greyhound ban, Mike Baird said that "As a humane and responsible Government, we are left with no acceptable course of action except to close this industry down."
But with the Orange by-election looming and his popularity plummeting, he suddenly found another acceptable course of action. Mr Baird has long enjoyed posturing that he was a man of high principles, a conviction politician who would always do the right thing.
But it turns out that the only thing he really believed in was his own political survival.
He was cavalier about imposing a ban that would cost thousands of people their jobs, but when it came to his own job he was rather more prudent.
Before, there was a dictatorial urgency to ban an industry outright. Now, there is a reform program that will involve stakeholders.
I opposed Mr Baird's ban from the outset. While there are people in the industry who have broken the law, there are many others who have done nothing wrong. His ban would have punished them all.
Greyhound racing is a pastime enjoyed by a small minority of our community, which is why the Premier probably thought his ban would win him votes.
It is also an industry based in the regions. There are 34 dog tracks in New South Wales, and 30 of these are in towns outside of Sydney. Ever since the days of Premier Jack Lang, dog racing is a pastime that has been popular in working class communities.
Mike Baird wanted to ban an industry that is small, regional and working class. His calculation would have been that most of these people already vote Labor, so he had nothing to lose by punishing them.
But his calculations were wrong.
The ban was controversial and unpopular not because it effected many people directly, but because it violated the fundamental Australian principle of a fair go for everyone.
There were people who had never been to a dog track, who don't even like dogs, who opposed the ban. They did so because they opposed the victimisation of a small group of their fellow citizens by their own Government.
The great majority of people looked at this and thought, "If the Government can do this to these people, they can do it to anyone. They might do it to me next."
The McHugh Report, which Baird used as the trigger to ban greyhound racing, set out dozens of detailed recommendations about how the industry could and should be reformed.
But this reform roadmap counted for nothing.
Instead of a ban, Labor brought forward legislation that would comprehensively reform greyhound racing.
In this area, as in so many others, the practice of self-regulation has manifestly failed.
Instead, I proposed the creation of an independent regulatory authority run by people who do not participate in greyhound racing. There should also be jail sentences and automatic life bans for anyone convicted of a live baiting offence and a comprehensive review of the rules of racing.
With the Orange by-election forcing Mr Baird into a back down, there is now the opportunity to reform the industry.
This will be a good outcome, but I don't think people will forget the culture war that led to it.