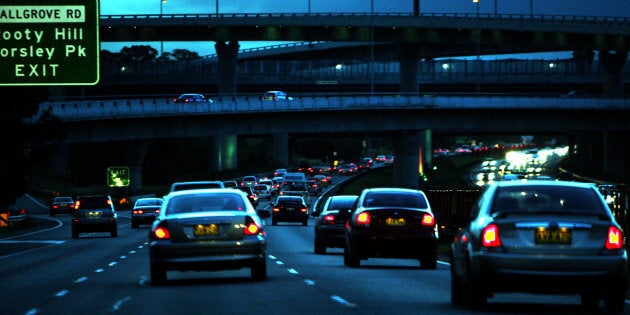 For years, motorists have driven on the M4 for free. But they won't get another free trip for the next 43 years.
Last week, the NSW Government imposed a toll to drive on the M4. The M4 is the key road from Western Sydney to the CBD. Motorists now have to pay $4.56, each way, for the 7.5 kilometre trip between Parramatta and Homebush Bay Drive.
For a regular commuter, the toll will really add up. Over a week, it will be $45.60 and close to $55.00 if you take a weekend trip to catch up with friends or see a show. Over a year, that means a hit of more than $2,000 to the average family budget.
And it will go up every three months.
This is one of the really disgraceful things that has been inflicted on Western Sydney -- a toll that is set to increase at twice the rate of inflation. Inflation is low, wages are stagnating, but Western Sydney cops an above-CPI toll hike every three months.
All of this is coming at the worst possible time. Family budgets are already under pressure from low wage increases, soaring electricity bills, record rents and increasing house prices. For some family budgets, the toll will be just too much.
Tolls might be a fact of life, but the way they are being set is all wrong. It is all being done behind closed doors -- with motorists being completely excluded.
Tolls are never going to be popular, but in the right circumstances they can be part of the funding mix to build the roads our community needs and our economy requires. But the community must be sure it is getting a fair deal.
And this new M4 toll is completely unfair because it is a toll on an existing road. For their money, people aren't getting to enjoy a brand new motorway. They are paying a toll to travel on a motorway that has already been paid off. That was why the original toll was abolished in 2010.
The NSW Government brought it back and have tried to justify it by pointing to the one additional lane that has been added. But the toll proceeds will pay for the extra lane in just three years. So why is the toll being imposed for 43? If the road upgrade is paid for in three years, why are Western Sydney motorists paying a toll for another 40 years?
The answer is that the NSW Government is using the toll as a tax on Western Sydney. The West is being subjected to a toll to raise money to pay for projects elsewhere.
It is a subsidy that has never been justified.
Tolls might be a fact of life, but the way they are being set is all wrong. It is all being done behind closed doors -- with motorists being completely excluded. How the M4 toll was set is not clear. There was no public consultation about how it will increase and how long it will be in place.
Worse still, the NSW Government has completely exempted its new tolling corporation, the Sydney Motorway Company, from the provisions of freedom of legislation to make sure these details are kept hidden forever.
But we are talking about billions of dollars to be paid in tolls over decades, the public has a right to know how these tolls are set and whether they are fair to motorists.
It is time for some proper scrutiny.
Labor opposes tolls increasing above the CPI and wants more transparency in the setting of tolls. An independent regulator like Independent Pricing and Regulatory Tribunal (IPART) should be involved to make sure that tolls are fairly and transparently set -- with the opportunity for public consultation.
Fares on public transport like trains, buses and ferries are authorised by IPART. A simple reform would be to make sure that all proposed tolling agreements are subject to IPART's scrutiny and approval before they are signed.
The need for reform is urgent.
Just a fortnight ago the Government announced that there would be a new toll for trips to Sydney Airport and Port Botany. They call it the 'Sydney Gateway'. The Westconnex is now just a toll road to another toll road. Again, there was no public consultation at all -- the community is kept in the dark.