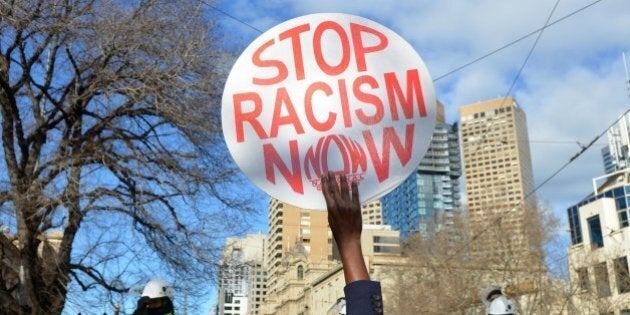 "Tomorrow you Jews will see what will become of you -- an eye for an eye, blood for blood, destruction for destruction."
These hateful words were preceded by a call to set the world free from the children of Israel and a description of Jews as the "hidden evil" that only a jihad could expunge.
These are not the words of some firebrand from another century but from a religious 'leader' earlier this year. He used a public forum to espouse his brand of hate.
And yet this person was free to pour out this anti-Semitic bile in NSW. He escaped prosecution earlier this year; despite the fact there was video footage of him calling upon his followers to kill Jews.
Most people would be shocked to learn that there isn't a law in NSW that prohibits a person from advocating or promoting violence against others based on their race, gender or sexual orientation.
So individuals like this man are able to run around saying the most abhorrent and offensive things that promote or advocate racial violence.
It was a telling moment that exposed the inadequacy of current laws governing racial vilification. Unfortunately, it was not a unique case. Racial and religious vilification is all too common an experience in NSW.
A Parliamentary inquiry into the NSW laws heard the testimony of a Chinese Australian who was elbowed in the ribs on a bus and told to "go back to where you come from, Chinaman". It also heard from the Korean tourist and her nephew who were subjected to a torrent of racist obscenities on another bus.
We have all seen the blurry clips on YouTube of these nasty attacks, many of them directed towards Muslim women. And those in the LGBTIQ community know all too well how poorly the law has served them. That same Parliamentary inquiry heard of one example of a homosexual vilification case that took up to three years because the NSW Administrative Decisions Tribunal had to decide whether the incident occurred in public or in private.
Thanks to social media, awareness of these public attacks is greater than ever before. But despite the seeming ubiquity of smartphones and social media much of this discrimination remains hidden from view.
The NSW Anti-Discrimination Board regularly refers serious instances of racial vilification to the Attorney General but in more than 20 years since NSW anti-discrimination laws have passed, there has not been one successful prosecution.
Some have used that statistic to argue that the law is working; I would say that they show that the law is certainly not working in favour of the people it is designed to protect.
Part of the problem lies in the wording of the current act which requires proof that the offending words actually caused someone to act violently. This totally disregards the psychological effects that comments promoting or advocating violence would have on the intended targets.
Another failing in the current act is the stipulation that it must be a public act. The law requires that offending words be broadcast to the public. In doing so that act fails to address hateful speech that occurs in quasi-public spaces and ignores the rise of the new digital media. It leaves many citizens open to attack. This is not the hallmark of a tolerant modern society.
NSW lags other jurisdictions such as Western Australia -- which has arguably the best laws in this area -- and which has managed to successfully convict people who have advocated or promoted racial hatred and harassment.
So what can be done? A NSW Parliamentary inquiry made 15 recommendations that would go a long way to redressing some of the shortcomings. Sadly that report has been languishing within the NSW Government for almost three years. This week all Attorney-General Gabrielle Upton committed to do is to order a review of Section 20D of the Anti-Discrimination Act, which will take place over the next couple of months.
Labor has called for a new offence to be drawn up under the Crimes Act that removes the word 'incite'. For too long this word has proved a sticking point. Labor is also pushing for the removal of any requirement that the Attorney-General must first give consent for a prosecution to proceed. We would also empower courts to gag the accused before the outcome of a hate speech trial.
The police should also be able to initiate their own investigation, which currently they are unable to do.
The time has come for the NSW Parliament to take leadership on this issue and make hate speech a crime that society, the police and the courts take seriously.