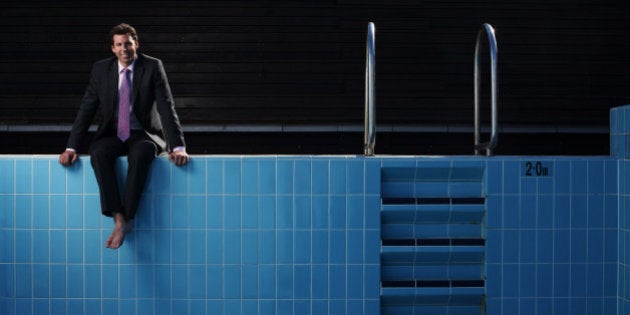 My friend and former team mate Grant Hackett has had a challenging week, to say the least. It's easy to sit back and judge his behaviour, and by no means do I condone it, but I think I can understand some of the emotions he might be feeling right now.
In 2006 I retired prematurely from competitive swimming. At the time, it was a huge weight lifted off my shoulders because I was burnt out from swimming, having trained 10 sessions a week for seven years straight.
But after a while, I had a larger concern to tend with. I realised that, after having been really good at something my entire life, I was suddenly just an average person. Less than that, really, because while my peers were completing their university studies and gaining valuable work experience to set themselves up in good jobs, I had no tertiary qualifications to speak of, and no job experience other than that of swimming up and down a pool many, many times.
I went through an identity crisis. I had to discover what I was other than a swimmer. What I liked, what I was passionate about, what I wanted to do with the rest of my life. I had to discover why I liked me for being me, without swimming.
On top of that, it felt like I was going through a break up. Not just with one person, but about 300. My life had changed and suddenly I didn't see my best friends so much anymore, and even when I did, our relationship had changed. It was pretty tough.
This is something that happens for most athletes, particularly for those of us who sacrifice work and education opportunities for our sport. Unfortunately, it is often those who are most successful in their athletic careers who find themselves most at risk when that career comes to an end.
Given this, it is easy to understand how someone like Grant Hackett, who is so likeable and professional on pool deck can fall to pieces outside of the pool. It is something, though, as a sport, we are now acutely aware of.
I went through an identity crisis. I had to discover what I was other than a swimmer.
Through my role as President at the Australian Swimmers' Association (ASA), I am working very closely with Swimming Australia, the coaches, and the other state stakeholders to ensure the risk of this identity crisis is mitigated as much as possible. We are working to help athletes to balance their time and energies whilst still swimming to foster a life outside of sport. We believe that this also helps athletes to perform more consistently over a longer period of time, as competing stresses help balance out the highs and lows that sport ultimately brings.
One of our planned initiatives will bring together mentors with athletes, to assist in the planning and transition phases. We are calling on people and organisations in the corporate world to assist in this initiative, as well as provide work experience and internship opportunities where appropriate.
Our sport is filled with dynamic, professional, dedicated young men and women. Success in swimming requires us to perform in high pressure situations, we must learn to take responsibility for ourselves when we are really young, we learn to prioritise, manage our time, sacrifice some of the fun things in life, all for our goals. These are skills that can be difficult to learn outside the sporting arena, but skills that make great employees down the track.
If you are an individual or organisation that is interested in hiring such people, or helping our athletes plan their lives outside of sport, please contact us through our website.