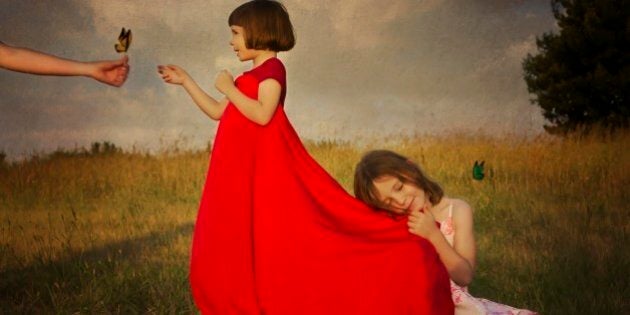 It was just before Christmas in 2014, and my daughter Sydney Marie was five at the time. Playing in a field near our home in Canberra, Sydney Marie and a close friend were messing around with a roll of vibrant red fabric, which looked as if it was aflame against the backdrop of the long, dried grass.
The girls were fashioning dresses out of the material. I'd brought the roll along after watching an online photography tutorial on imagery that can be created with fabric, but there was no set up or special intention to create 'a shot.' I snapped away as the girls giggled. It was an ordinary -- yet incredibly special day -- spent with my family and close friends.
Afterwards, when I downloaded my images, the stunning vibrancy of the fabric leapt out at me. I modified the colours and processed the image to look more like a fine art painting, rather than what it was, a casual family snapshot taken on a carefree day.
Girls At Play is the first photograph I've taken that I've printed, framed and hung proudly in the entranceway of my home. Before it, most of our favourite family photographs ended up curling at the edges while stuck on the fridge. Or they languished unseen again on the computer hard drive. It's also the first photograph for which I've won an award. I'm incredibly proud of it.
It was three years ago that I was diagnosed with a moderately aggressive form of breast cancer. It was its sheer size (5.5cm) which has impacted my survival odds. Anything over 3cm isn't great, so the odds of it returning are quite high. I don't know how long I've got. It's more a matter of when it comes back rather than if it comes back. As motivators go, that'll get you asking, "what do I really want to be doing with my time? I don't have time to mess around."
My Dad died when I was 16 and all I have left of him is his watch, a photograph taken of my brother and I collecting acorns with dad when we were little, and a handful of fading memories. Dad gave me my first camera when I was 10 and ignited my love of photography. When I got sick I realised that if I was only going to be around for my kids for six months, five years or ten, I wanted them to have more of me than I have of my dad.
Prior to cancer, I'd worked in computer programming. The online banking systems I'd written weren't going to mean anything to Sydney Marie, who's now seven, or my son Noah, 10. So I realised that photos -- my photos -- would be a tangible way for them to see how I see the world, whatever may happen.
I decided that 2015 would also be my 'Year of Yes'. I'd begun to take on commercial photography work, having opted not to return to my previous role in IT. Instead, I decided to pursue my love of photography and started taking photos for clients. But when a photography mentor suggested that I enter Girls At Play into a professional photography competition I had to agree -- even though my kneejerk reaction was to tell myself, "It's not good enough, and I'm not good enough for this." To win a silver award for Girls At Play was a huge validation for me.
Sometimes I feel like a bit of a ticking time bomb. But now, I always live in the present and never put off the things I want to do. Girls At Play, hanging by my front door is my daily reminder that you never know what might happen. It won't always be good, but it won't all be bad either. And it's probably one of my favourite pictures of my beautiful girl.