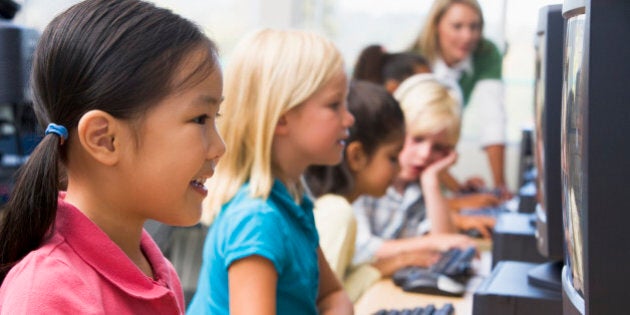 The children of Australia are today's students and tomorrow's employees. And while each generation has passed through the student lifestage, Generation Z are the only ones to have done so in the 21st century. They can be defined as being post-linear, post-literate, and post-logical.
They have been born into a time that has seen the printed word morph into an electronic form. Ironically, today an electronic document is perceived to have more currency, and therefore accuracy, than the printed page. Books give way to YouTube videos. The written word is replaced by icons and images. Education is shifting from structured classrooms to collaborative means, from textbooks to tablets and from reports to infographics and video presentations. Words in this global era are progressively replaced with symbols or universal icons. Generation Z has been nicknamed 'Generation Glass', because it is this medium that communicates content: glass you don't just look through, but look at, wear, carry and interact with.
While schools structure learning by subject, Generation Zs live life in a hyperlinked world. For digital natives, it is not a subject but a lifestyle. Teachers deliver formal lessons, yet students are experiential and participative. We test academic knowledge and memory in examinations, yet they, with the always-on internet, are living in an open-book world, only ever a few clicks away from any piece of information on the planet.
Generation Z and the emerging Generation Alpha are also the most technologically literate and socially empowered generation ever. They are highly intuitive and confident users of digital technology, with Facebook having been around more than a decade and iPhones, iPads, apps and social media having been available to them from their formative years.
There are 4.5 million reasons to engage Generation Z, the students of today and university graduates, employees and leaders of tomorrow. What's more, the future of education depends on understanding and engaging with these 21st century learners. In order to fulfill the demand for labour and to ensure the future of our employment sector, our education system will need to adapt to and accommodate the learning styles of today's students.
We use the term post-literate, not illiterate. They are writing more and sending more messages, just in ways different to previous generations. The issue is that literate forms of communication alone just won't connect in today's visual world. Today's learners are a multi-modal generation, and therefore demand communication styles that engage multiple learning channels.
While the chalk-and-talk teaching approach was the only style on offer in previous generations, this structured approach to classroom communication is far less engaging for today's technologically savvy, multi-media, post-structured learners. Though many complain about the short attention spans of today's youth, this is mainly exhibited in the context of old methods of teaching that largely involve passive models of communication.
The language of today's learners is one that communicates content as well as being exciting, social and creative. They value visual and interactive communication with quick and easy access to information. This is in distinct contrast to perception of the education system where learning and fun are seen as mutually exclusive.
Learning must not just be an academic exercise of logic and rationale, but a development experience of social, emotional and visceral connection as well. The point is that students have changed, so approaches to teaching need to change as well.
Engaging with today's learners
It is excellent to see that schools and classrooms are responding effectively to these changing learning styles through the implementation of learning stations, shifting from 'teacher' to facilitator', managing more group work, providing real-world case studies, outdoor education and teaching through activity-based learning. This, to the credit of schools is how they've been able to engage with changing learner needs while maintaining educational excellence. That said, there are still more changes to be made. According to our survey on parents' opinions on education, over 90 percent would like to see schools work harder at engaging with students and making learning interesting.
Traditionally, children were pre-formatted to learn within a structured environment, having spent their preschool years in a household where formative character was set through routine, compliance and training. However, increasingly, many children enter formal schooling without such a background and when such a student does not complete year 12, it is said that "they failed school" when actually their school experience failed them.
While in the past, parents, extended family, Sunday school and the Scouts or sports teams all had a role in developing the character, values and socialisation skills of the child, today, parents are juggling increasingly complex roles and the average young person is less connected with other formative institutions.
Schools are increasingly the one social bottleneck through which young people pass and so play a key role in developing the whole person. That is, in addition to its academic aims, the education system is expected to develop people skills, character formation, life skills and resilience.
Historically there were three Rs of education: reading, writing and arithmetic -- although two of them weren't even Rs. Perhaps that could be adjusted to the four Rs of effective 21st century engagement:
Not only must our communication style be credible, but we must be credible also. This generation doesn't expect us to know all about their lifestyle, nor do they want us to embrace their culture. They are simply seeking understanding and respect. If we are less than transparent, it will be seen.
Both the content and style in which we deliver it must be relevant to a generation which is visually educated and entertained. There is no point in going to a friend's movie night with a rented DVD if they only have a streaming service. Similarly, we must communicate in the most appropriate format for those we are reaching. So in understanding the communication styles of our students we will be better equipped to reach them.
Education can either be teacher-centric (traditional), curriculum targeted (with a predominate focus on state-wide testing) or learner focused (responsive to their learning styles and needs).
In a generation, education has moved from 'classes' to individual learning plans. As part of the shift from students conforming to the system to education responding to the changing times, needs and learners.
The old saying in education circles still rings true for today's students: "They don't care how much you know until they know how much you care." Communicating to this generation requires more than just good content and new technology -- it needs engagement and involvement. The more we create an environment conducive to engaging with the head (knowledge), hands (application) and heart (inspiration), the more likely their learning will be embedded, opportunities enlarged and futures shaped.