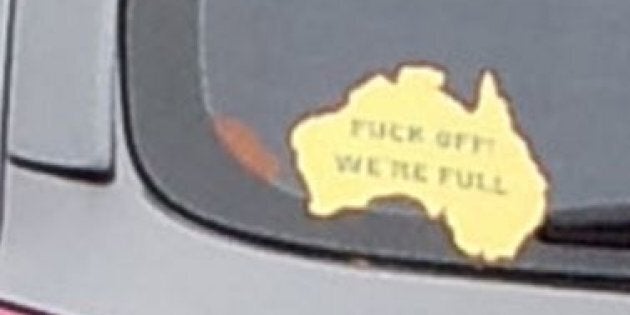 It was the early hours of the morning when our plane landed in Australia for the first time. Temperatures were high but emotions were running even higher. My family was both scared and excited; we had come to Australia on the basis that it would give us a better life and more opportunities. Driving out of Brisbane airport, imagine how crushing it was that the first thing I saw, on my Australian adventure, was the most eloquent of bumper stickers: 'F**ck Off, We're Full'.
That sticker, in four simple, ignorant words, encapsulates everything that is wrong with the rhetoric surrounding immigration policy in Australia. Peter Dutton should save himself the trouble of trying to express an immigration policy at all and just say these four words. It is, in essence, what he is saying as he tries to reconcile the confounding problem of unemployed, illiterate refugees who would be taking Australian jobs. There really is no rational reason why except Australia does not want you.
Imagine you are the Syrian refugees who are about to be, begrudgingly, resettled in Australia. You have already seen your own country ripped apart by civil war, you have spent a number of years in a refugee camp in Greece or Turkey and now you are about to be resettled into a country that, frankly, does not want you.
If this was the hostile environment in which you were welcomed, how inclined would you be to 'assimilate' and contribute to the development of society? I would hazard a guess and say not very. But this is not true of refugees. Despite facing rising xenophobia in Australia in the past decade, refugees have continued to be active members of the community.
Research released by the ABS last year found that humanitarian migrants made a high proportion of their income from their own unincorporated businesses, and this income increased sharply after five years of residency. Consider a town like Mackay, where there is a decreasing population due to the slowdown in the resources sector; it would make sense to settle refugees here. Refugees would provide economic stimulus as they would increase local retail demand and, instead of 'stealing' jobs they may actually create their own jobs. The ostensibly pragmatic fears of Mr Christensen therefore seem baseless and a veiled attempt at saying, once again, in politically correct speak, f**ck off we're full.
I am not from a family of refugees. But even as the daughter of migrants, I feel an incredible responsibility to make the most of the opportunities Australia has given me. My parents gave up the way of living they were accustomed to, a proximity to their relatives and loved ones as well as local social status to start again for the sake of their children. I cannot even express how much this feeling would be amplified if their reason for coming to Australia was to escape war or social persecution and the journey they had made to arrive here was as perilous as that made by many refugees.
I feel like Australia is my home and my country. But comments like those made by Peter Dutton and George Christensen shake that belief profoundly. They expose the underbelly of Australian politics and the biases that are actually at play when Parliament is making policy. Is every job that I get one that I have stolen from a 'true' Australian? Is my status as an Australian citizen diminished if I am ever in a position where I need Centrelink or Medicare? Is it the case that, behind the veils of politically correct speak of everyday life, this nation is inherently racist? The people speaking and portraying these messages are, after all, elected representatives.
It is time to stop hiding behind warped statistics and misguided notions of policy such as 'saving Australian jobs' and 'stopping people smugglers' and confront the real question that underlies this messy debate: why are some in Australia so scared of a progressive multicultural society?