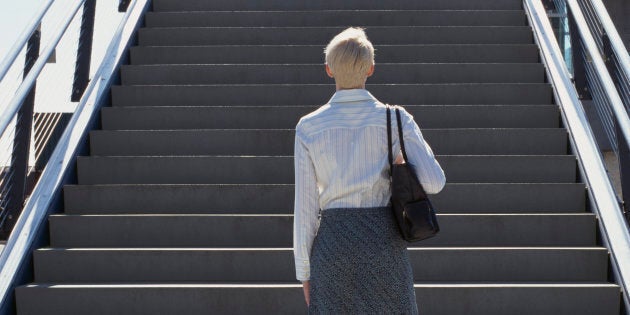 Although more peaceful than our British counterparts, the Australian suffragettes fought hard for political enfranchisement. Despite the seemingly insurmountable task ahead of them, they persisted with what I can only imagine was an unwavering sense of optimism for the future of equal rights.
Little did they know that progress would be so slow. Fast-forward to over a century later and we are still advocating for gender equality throughout all areas of society. For putting an end to gendered violence, for equal representation in public and private life, and for equal pay for equal work.
To address the gender discrepancy in the workforce, today, September 4, 2017, marks Equal Pay Day.
It's a significant date which represents the additional time from the end of the previous financial year that women must work to make the same as men. It is also a stark reminder of the significant journey still ahead.
Albeit a slight improvement from last year, the gender pay gap is representative of how deeply gender stereotypes and inequality are woven into the tapestry of our culture and value system.
The power to prevent violence against women and achieve true gender equality lies in the collective efforts of a 'whole of society' approach.
In a telling investigation into Australia's largest 200 companies earlier this year, men named Peter or John were found to be 40 percent more likely to be at the helm of a company, than women.
Deeply engrained gender stereotypes, and lack of female role models at the top, discourage women and girls from pursuing leadership positions or simply achieving basic pay parity.
Throughout my career, I have come up against these stereotypes, time and time again. Typically, 'feminine' qualities in the workforce are seen as a weakness, yet if a woman tries to adopt a more 'masculine' approach, she is penalised for violating her role.
If a woman is decisive and authoritative, she is seen as 'bossy'. Whereas if the same strengths are exuded by a man, he is seen as a natural born leader.
It is uplifting to see the cogs starting to turn in the corporate world, particularly through a show of solidarity from 122 business leaders from the Male Champions of Change coalition. They signed an agreement to ensure equal pay for equal work in like-for-like roles within their organisations, and outlined a number of key performance targets.
This is a welcome step towards ensuring workplaces collectively review and measure their gender pay gap, promote equitable processes and set some basic gender-based targets.
It makes business sense that workplaces introspect, learn and create an environment that holds employers and employees alike to the highest standards in equality, safety and respect.
The numbers discrepancy is mirrored in political decision-making, where despite women comprising of half of the population, they are still significantly underrepresented in parliament.
In Australia, representation is even worse for marginalised groups such as Aboriginal and Torres Strait Islander women, who currently only have two members sitting in federal parliament. Women from all ethnicities and backgrounds should be able to write the laws that govern this country, and have their matters addressed in parliament.
The power to prevent violence against women and achieve true gender equality lies in the collective efforts of a 'whole of society' approach. Through the leadership of workplaces, schools, sporting clubs and federal, state, and local governments, we can build the momentum needed to address the great gender divide.
After all, evidence tells us violence against women can be reduced in Australia by increasing gender equality in all elements of everyday life.
The women that came before us fought for the right to be valued and to have a say. They fought for equality and respect, and the right to live free from violence. Our Watch is committed to carrying on their legacy and we won't rest until workplaces, individuals and society more broadly, take an active role in addressing the gendered drivers of violence against women.
Until boys and girls are not socialised into believing that the likes of Peter or John make better leaders than Nicole or Jessica, gender inequality will persist.