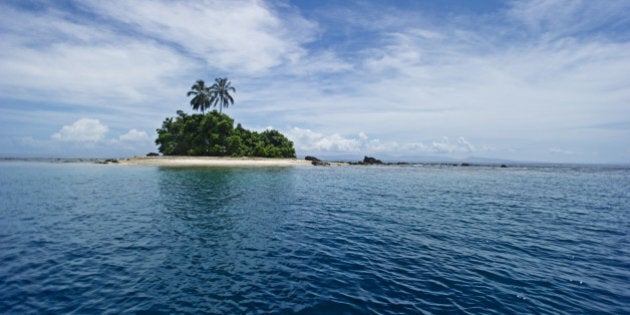 Look out of my window on the Coral Coast of the Fiji Islands, and you'll see a clean freshwater river, a white sand beach and the beautiful Pacific ocean. It really is idyllic -- rustling palm trees, the smiles of paradise children, and blissfully happy newlyweds from other countries.
Unfortunately for me, the view is different. I see worrying disparities between what once was, what is, and what is yet to come. I see a thinning coastline, a crumbling headland and a coral reef that is having the life bleached out of it. I see the climate change crisis, arrived and ready to take our land, the coconut grove that four generations of my family have happily grown up on.
I see the gradual robbery of our homeland, our seas, our resources and our wildlife.
The effects of climate change are being felt at an unparalleled rate, coming in faster and stronger than ever before. In the past century, global average sea levels have risen about 17 centimetres -- in the past decade alone, the rate of rise has nearly doubled.
The Intergovernmental Panel on Climate Change has identified small island states as being among the countries most vulnerable to the impacts of climate change. The Pacific is without a doubt one of the world's most defenseless regions, particularly several of the low-lying coral islands such as Kiribati, Tuvalu and the Marshall Islands.
The disproportionate impacts of climate change on Pacific nations are grossly unjust. The climate crisis is already affecting all Pacific Islands in sectors such as agriculture, water resources, forestry and tourism. Climate change directly undermines desperately needed development in a region where 35 percent of the population lived below the poverty line in 2010 (defined as US$1.25 per day).
Because of this, Pacific leaders have long led the charge to address climate change by working on the challenges of adaptation, and by mitigating our already tiny contribution to greenhouse gas emissions. Collectively, across 17 states spanning a quarter of the world's sphere, the Pacific only contributes 0.03 percent of global carbon dioxide emissions.
Leaders and delegates from across the globe are gathering this week in Paris for another round of international talks on how to tackle the effects of climate change. In all honesty, our faith in this global process is waning. Our customary cultural reliance on politeness, trust and talking matters through has unfortunately led us astray.
The Pacific nations have a long history of being sidelined when it comes to their own representation. Larger, first-tier nations such as Australia and New Zealand speak on behalf of the Pacific at regional and international meetings, often making sweeping statements that more accurately reflect their own economic and security interests, rather than those of the small island developing states.
We are seeing a new determination from Pacific nations to hold the international community to account. In September this year, Pacific island leaders -- without Australia and New Zealand -- issued the 'Suva Declaration'. It is a statement reflecting our collective deep disappointment over the lack of progress in reducing global greenhouse gas emissions, and highlights the dearth of international financing for Pacific nations that are struggling with plans to adapt to climate change. Incredibly, some proposals for adaptation funding would see Pacific islands getting loans or reimbursable grants for these plans, further increasing their debt and undermining development.
The Suva Declaration also calls for a limit to the global average temperature increase to less than 1.5 degrees centigrade above pre-industrial levels, and singles out fossil fuels -- particularly the construction of new coal mines -- as undermining efforts to reduce emissions. In contrast, a similar Pacific regional meeting in September which includes Australia and New Zealand issued a watered-down statement that skirted the issue of fossil fuels and did not call for a 1.5 degree limit.
Pacific leaders who are in Paris for the climate talks are not alone. Pasifika people from civil society are alongside them in support and solidarity. This time, in Paris, we are determined to have our voices heard on the international stage.
We may be polite, but we will not be silenced. The Pacific will speak for the Pacific.
Matisse Walkden-Brown is the head of Pacific Net, Greenpeace's Pacific Power and Justice Project.