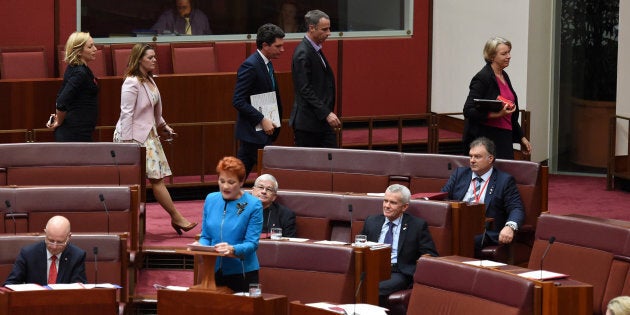 Australians are deeply dissatisfied with government. That is an unambiguous finding from the 2016 Scanlon Foundation Social Cohesion survey. Alarm bells are ringing elsewhere too. As campaigning heats up for Queensland's state election, polls suggest Pauline Hanson is addressing people's concerns better than either major party (just ask George Brandis).
Across several issues, community attitudes present challenges for existing policies. Look no further than fraying support for foreign workers, the questioning of conventional economic policy and negative views towards those on welfare.
In the wake of the U.S. election, we've seen bipartisan calls for Australian leaders to listen and speak respectfully to those who feel disenfranchised. These lessons are important but will not substitute for the difficult policy choices that lie ahead. The ensuing debates will cut at the quick of the economic and cultural orthodoxy -- for both the left and the right.
While there has always been divergence between community opinion and policy, in today's febrile political environment, extreme voices loom ready to capitalise on fear and disaffection. Expectations of our politicians to foster cohesion and also respond to legitimate concerns among their constituents have never been higher.
The current discussion surrounding 457-visas for foreign workers is indicative of the tough choices to come. The ALP is pushing for greater labour market testing. For around three quarters of current 457-visa holders, employers were not required to look for a suitably qualified Australian candidate first. The Coalition has proposed decreasing the length of time 457 visa holders can remain in Australia after their visa expires. The underlying premise from both parties is clear: Australians first.
Although Australians are largely supportive of our immigration program, there is concern regarding foreign workers. For instance, one-third believe immigrants take jobs from Australians whilst, in March 2013, almost 60 percent supported a reduction in 457-visas. Since then, there has been only a 10 percent reduction in the number of 457-visa places, despite deterioration of the economy.
Greens MP Adam Bandt shouted down Labor's approach to 457s as racist, while former Coalition leader John Hewson labelled it politically opportunistic. These claims risk stifling an important discussion.
The 457-visa issue conjures up serious moral questions. As a society, what value do we place on Australian jobs, products and companies compared to those from overseas? How do we weigh the costs and benefits of foreign labour for different people or industries within Australia? The answers have broad implications touching on immigration, government procurement and foreign investment.
The economic orthodoxy too is being questioned. Trade agreements are increasingly controversial, highlighted by establishment figure Hillary Clinton withdrawing support for the Trans-Pacific Partnership. In Australia, the successes of Hawke and Keating loom large over economic policy. There is long-standing bipartisan consensus in favour of an open economy. The associated rough edges have been smoothed out, albeit imperfectly, using "transition plans" combined with the social safety net.
Pressure may build to redistribute more aggressively. A recent Australian National University survey found well over 50 percent of Australians believe that upper income groups pay too little tax. In the past, increasing taxes has been considered a no-go zone, especially by the right. Yet taxes on the very rich, including closing tax loopholes, are one way to fund income tax cuts for the middle class. In turn, take home wages for everyday working Australians increase.
Some Australians also have concerns regarding welfare recipients. Although Australia's social security system is broadly supported, surveys show those who receive unemployment benefits are viewed as lazy or dependent.
The reality is that Australia's welfare system is one of the most efficient and well targeted in the world. Further, there are insufficient employment opportunities relative to job seekers and the dole payment is low by international standards. Yet if the middle class is squeezed and minor parties continue capitalising on division, community expectations about the accountability of welfare recipients may increase.
Ancient Greek Philosopher Aristotle wrote that the best communities are those where the middle class is in control. To achieve this, adequate health and education services, public infrastructure, retirement savings and just action on climate change are critical. Peripheral Canberra insider issues -- abolishing 18C of the Racial Discrimination Act, for instance -- must not be the focus.
More is required though. Listening to the middle-class demands revisiting accepted policy wisdom. If these debates are shut down, the response from major parties may fall short. Hanson and other extremists will fill the void.