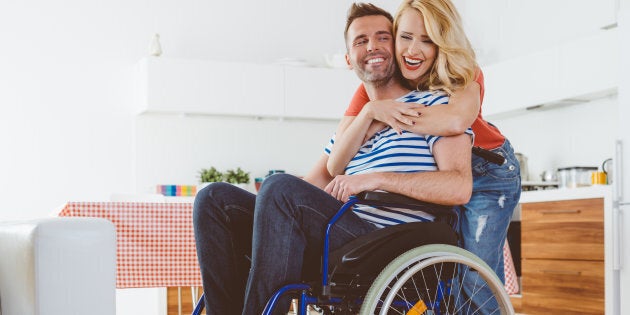 Last month I received a call from a woman who told me about her 19-year-old nephew with an intellectual disability who works two days a week in the office of the family business. His parents are worried after getting complaints about him sometimes behaving in a sexually inappropriate way -- they just don't know what to do.
Another client in his early twenties became a paraplegic after a surfing accident. He can't walk and needs a wheelchair, and because of his injury is not able to get an erection any more. Who would possibly want to date him?
Unfortunately there are many myths and taboos around sex and disability. People with physical or intellectual disabilities in today's society are often regarded as non-sexual adults. Sex is very much associated with youth and physical attractiveness. It's therefore easy for people who have disabilities to be influenced by these myths and believe they don't have a right to have sex. But that just isn't true.
There's really no disability that makes sex impossible if we define sex not as intercourse but as physical contact for the purpose of sharing intimacy and pleasure.
Sexuality is a key part of human nature and people with disabilities experience the same range of sexual thoughts, feelings and desires as anyone else. The desire for love and intimacy is natural for everyone. But when we have a disability or consider ourselves disfigured, it is sometimes hard to believe we are attractive.
People with disabilities should have the right to explore and express their gender and sexuality, and should be allowed to have relationships based on consent and respect. But to understand and enjoy sexuality, everyone needs adequate advice, information and support.
Opportunities for sexual exploration among people with disabilities, particularly the young, are extremely limited. There is often a lack of privacy with carers around and they are more likely than other young people to receive a negative reaction from an adult if discovered. Often they are denied sex education and sometimes they are punished for exhibiting behaviour that others consider socially inappropriate simply because they are disabled.
Health professionals and carers should be given access to, or seek out, information on how to support and discuss the subject with their clients, as most are ill-equipped to do so. As a result many people who have disabilities are frustrated and afraid that their sexual needs are not recognised.
Cory Silverberg is a Canadian sex educator, public speaker and co-author of the bookThe Ultimate Guide to Sex and Disability for people who live with disabilities, pain, illness or chronic conditions. It's co-written by a medical doctor, a sex educator, and a disability activist and provides readers with the encouragement, support and information they need to create a sex life that works for them.
The authors cover all aspects of sex and disability, including building a positive sexual self-image; positions to minimise stress and maximise pleasure; dealing with fatigue or pain during sex; finding partners and talking with partners about sex and disability; adapting sex toys and more. In this video Silverberg explains that people with disabilities are sexual and can have a healthy sexuality.
British actor, journalist and TV presenter Mik Scarlet suffered a spinal collapse in his teens that left him unable to walk or get an erection. In his short film he explores some of the most common myths he has encountered about sex and disability. Do people with disabilities want sex? Can they even have sex if they want it?
The sexual needs of disabled people was beautifully explored in 'The Sessions', a 2012 film based on the true story of Mark O'Brien, a poet and journalist who contracted childhood polio and is confined to an iron lung.
In Australia we have the wonderful organisation SHine SA, promoting the empowerment of people living with a disability to fully pursue their sexual and reproductive health and achieve a healthy relationship with their own sexuality and with other people. This document contains links to websites, freely accessible manuals, booklets and videos, and resources for purchase around sexuality and disability.
A huge difficulty for people with disabilities is how and where to meet partners. They often have limited opportunities to meet people and find it difficult to negotiate relationships. There are many online dating websites and some specialising in dating for people who have disabilities have appeared recently.
There's really no disability that makes sex impossible if we define sex not as intercourse but as physical contact for the purpose of sharing intimacy and pleasure. Sex can be a wonderful way of connecting with someone we love.
Having sex may require some effort, but sexual desire is also a powerful source of energy. Pleasure derived from sex can raise a person's quality of life and can strengthen the connection with their partner. Their body can then be a source of pleasure, not only of frustration.
ALSO ON HUFFPOST AUSTRALIA