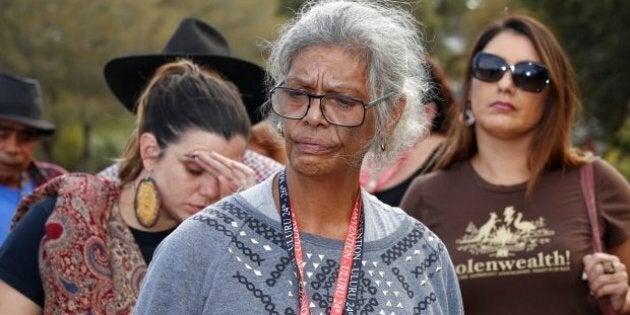 It is surreal to think that we only got our first Indigenous Australian parliamentarian in 2010 when our New Zealand cousins across the pond had their first Maori representatives in 1868, a century before our First People could vote.
And while, in 1967 they were counted, 50 years later it is less surreal to acknowledge that Indigenous Australian voices are still not being heard.
Politicians have been taken aback by preliminary findings from the National Indigenous Constitutional Convention in in Mutitjulu, near Uluru, that argued for a permanent Indigenous advisory body rather than constitutional recognition of our First People.
Neither Turnbull nor Shorten have come out in support of this recommendation so far. And some within the two major parties have already launched into opposition: Barnaby Joyce told Radio National on Monday: "Look, if you're asking for a new chamber in the federal parliament, and some of the articles I see are sort of heading in that direction, that's not going to happen".
Joyce's claim is bogus. And the bipartisan neglect for this crucial proposal isn't just a political misprioritisation, but the latest in a decades-long attempt to wilfully ignore the complexity and nuance of Indigenous Australia's wants.
It's not as though Parliament House didn't have fair warning that an advisory body was desired. More than 17 years ago Indigenous community leader Geoff Clark, then head of the now-gone Aboriginal and Torres Strait Islander Commission, sought the development of Indigenous advisory body to parliament. Speaking on Radio National -- ironically, using the same platform that Joyce would use 17 years later -- he said:
"Self-determination should encompass some formal agreement with the Australian Government... the disparity that we're experiencing in Australia will not be overcome because the programs that have been designed are without the actual involvement and full participation and control of indigenous people".
Fast forward to 2015 and the same dynamic existed: when Tony Abbott and Bill Shorten met with 40 Indigenous leaders, the pollies had already set the agenda to be on constitutional recognition. This attracted little-reported protests, with a woman shouting at one point "You don't speak for 65 percent of Indigenous people, you sell-outs!".
She was wrong -- it was more like 75 percent.
An even-less-reported 2015 survey conducted by IndigenousX found that only 25 percent of Indigenous Australian and Torres Strait Islanders supported the constitutional recognition movement. The majority of respondents did not feel like Aboriginal and Torres Strait Islander lives would be improved if a recognition referendum was passed.
To have such obvious political preferences voiced over and over again -- for more than a decade -- just to be ignored, can only be excruciating.
One explanation is that the media doesn't give Indigenous Australian issues a fair go: a study from the turn of the century found that of 15 television news stories covering Indigenous Australian protests, only three aired an Indigenous voice speaking on indigenous issues. A study almost 10 years later reviewed 527 articles, only to conclude that the media "failed to include voices of these people directly affected by its operations -- Indigenous Australians".
But there is a mountain of evidence that suggests that this is an issue that supersedes the media. The buck clearly stops at our politicians. Not just the outspoken Barnaby Joyce's in Parliament House but, perhaps even more importantly, the continually silent leadership.
More than a third of women in prison are Indigenous Australian, and 48 percent of juveniles in custody are too. The infant mortality rate of Indigenous Australian children is almost double that of white Australians, and Indigenous women are three times more likely to die from childbirth. Indigenous Australians can expect to live a decade less than their counterparts.
The Indigenous convention last week broke headlines, and broke a lot of pretences colonial Australia had about Indigenous Australian political desires.
"In 1967 we were counted," a statement from the conference read. "In 2017 we seek to be heard."
I eagerly wait for our politicians to answer.
ALSO ON HUFFPOST AUSTRALIA