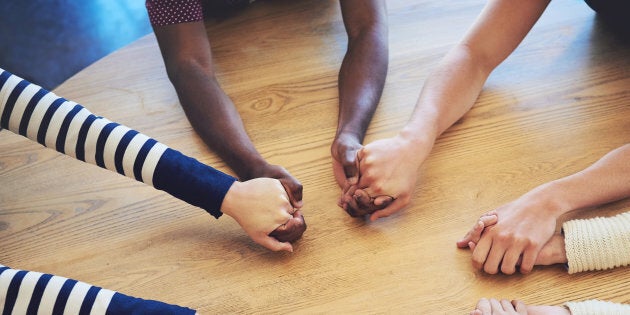 I wonder if there is a single woman on this planet who has not experienced an unwanted sexual advance, be it verbal or physical, subtle or blatant? It happens across society and in workplaces from the film industry to the retail and hospitality sector, in the police force, in universities and in sport and media. No industry or culture is safe from gender-based harassment.
Young or old, white, brown or black, executive, teacher or waitress, famous or infamous -- as women, no matter who we are, we are vulnerable.
Sexism and sexual abuse in the work place comes in many shapes. From meetings where women are silenced, to the uninvited touch, and explicitly predatory behaviour and violent sexual crimes. It is entrenched in cultures and societies across the world. It is part and parcel of the patriarchal order and dominant masculinity we all live with.
Women became the big story in 2017 with the #MeToo movement. What started in Hollywood set off a chain of stories from women all over the world about the sexual abuse they had endured in their workplaces. It takes immense courage to speak your truth in a world where the perpetrators have the power and the influence. But speak they did and the world was forced to listen. it was the sheer number of women who fearlessly came out that created a movement too big to be swept under the rug. This time, it was some of the perpetrators -- not the abused -- who lost their careers, jobs, and reputations.
However, it is still the reality that most instances of sexual assault go unreported and it takes immense effort to get the attention of authorities to understand, let alone address this problem. Let's not forget that it took decades of hard work by activists to bring the prevalence of misogyny and assault in Australian universities in to the public eye.
We know that very few sexual assault cases make it to the criminal justice system and concerningly, even less result in repercussions for the accused. Even the justice system is stacked against women.
As we #pressforprogress on International Women's Day 2018, what's next?
It is imperative for this next wave of feminism to persist and to get bigger and bolder. #MeToo has become a defining moment, but there are still many voices we need to hear, believe and amplify. There are still women who remain in the shadows. Domestic workers, farm workers, restaurant and bar workers, and all the women working in professions that are very much hidden from the mainstream, but who nonetheless face the brunt of sexual harassment, abuse, and assault. Women who are undocumented, migrant and refugee women, trans women, Aboriginal women, students, and sex workers, who are failed by the system over and over.
Growing up in Pakistan, I know more than most the power of the patriarchy in silencing women. But more importantly, I know the immense capacity of women to change lives and save lives. I saw the matriarchs in my family working together with other women from across the board, listening to each other, believing each other. I heard women around me talk about patriarchy and what they did to subvert it. There was an unmatched camaraderie amongst the women around me. They relied on each other in ways they banked on no one else. Their relationships were indispensable, profound and powerful.
This is exactly what we need to bring to the #MeToo movement. Extend it to all women, rally around all women, and -- most importantly -- believe all women. Because without #WeToo there is a risk #MeToo might disappear into oblivion.