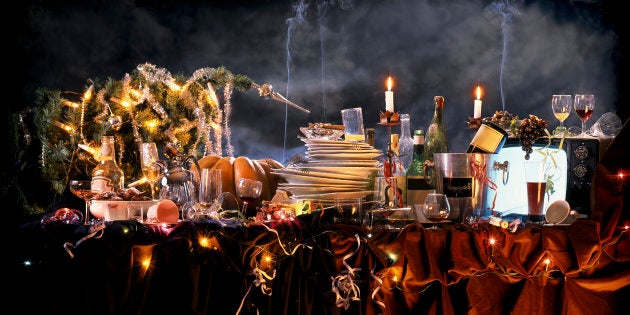 It seems that every year, as soon as December arrives, the media goes into overdrive with scrumptious recipes to prepare for the Christmas feast. Glazed hams, succulent turkeys, sweet roasted vegetables all effortlessly prepared and consumed with love.
But what if you can't cook? What if the thought of preparing a meal for your family is as appealing as watching a procession of ants make their way up a wall? This is me, and what makes it worse is that I come from a family of great cooks.
I have a brother who prepares his own pizza base, a sister in-law who hand makes pasta, a sister who spends her spare time testing out different recipes and a father who has a flare for Asian cuisine. Then there is my mum, who learnt the craft of cooking with love from her mum and through every meal she creates the generations that came before her can be tasted.
Yes, I am the black sheep of the culinary world in our family.
For many years there has been a silent understanding within the family that meals at my house were never going to be a thing. I can remember only one occasion when I invited my family over for dinner and the stress of it sent me to bed with a migraine straight after.
I don't know why I am such a novice in the kitchen. Part of me thinks it may have something to do with my lack of interest in food, full stop. That's not to say I don't eat, I most certainly do, but I'm the kind of girl who would be just as happy with a sausage in bread from Bunnings as I would at a five star restaurant.
So at this time of year as we are preparing our family Christmas and every person is allocated a dish to bring, I have a sense of dread and anticipation as I wait for the usual request. "Mel, how about you bring some bread rolls and a bottle of wine?" This is delivered by my mother in a way that doesn't make me feel completely useless. In that very moment, she tries to make me believe that bread rolls could be the make-or-break of a successful meal and so the onus is on me to select the best rolls available.
My bread rolls are always contrasted by an assortment of colorful salads with ingredients I can barely recognise, let alone pronounce. The tastes are all balanced to perfection and they are presented like works of art. Magnificent platters with matching servers surround the main meal of assorted meats and seafood. It is a banquet of royal standards. And there, somewhere in the middle, stands my breadbasket, looking as appealing as bread can.
And the worst part? Everyone compliments me on the bread in an attempt make me feel like one of them; a 'foodie,' a 'culinary wiz' or just someone that cares.
My mother refuses to acknowledge my struggles in the kitchen, believing that it is just a hidden talent I have yet to tap in to. She's kidding herself. She tries in her own way to get me interested, and has even gone so far as to bring bags of ingredients to my house to show me how to make my grandmothers chicken casserole that we loved so much growing up. Or her beautiful vegetable soup that gives you an instant surge of energy and good health. I sit on the other side of the kitchen bench, glass of wine in hand, trying to channel my inner Nigella unsuccessfully.
Now many would think that this lack of skill in the kitchen could be a good thing because I am relinquished from the tedious cooking obligations. Well there is no free lunch. By the time the meal is finished, I am so totally overwhelmed with guilt that I take on the role of 'chief cleaner upperer'. As everyone kicks back with full bellies to discuss the magnificent meal they just ate and share cooking tips, I head straight to the kitchen to be greeted by the bombshell that awaits with my name on it. While a tedious a job, I would much prefer to be scrubbing pots than be part of the masterclass in the next room.
Once the kitchen is clean, I join the rest of the family who, by this stage, are either sprawled on the couch sound asleep or waddling around the house as if they are about to give birth to a baby elephant.
I can't help but wonder if the stress of preparing the most perfect meal was really worth it. The endless phone calls and emails to exchange recipes and ideas, the hours of preparation and cooking time, all to be demolished within minutes. Or maybe that's just my excuse.