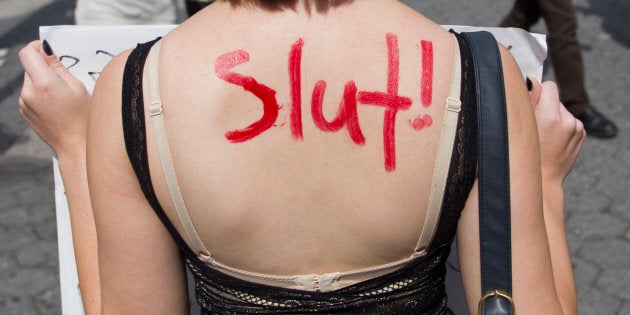 I have been heartened of late to read a number of articles written in support of young women. Slowly but surely, people are beginning to catch on to what it really means when we refer to gender equality.
This is not just a rant by a bunch of women burning bras and growing hairy armpits, as was recently suggested to me, but a fight to claim what is rightly ours; an equal platform, an equal voice and equal rights. It's a fight that must be had in order for our society to be in harmony.
There is one term, however, that I have seen a lot and always makes me feel uneasy when I read it. "Slut-shaming". This is a term that seems to have slipped into our everyday narrative with ease and yet holds such a negative connotation towards women. Further, both males and females, regardless of where they stand on the spectrum of gender equality, are using this term.
To be "slut-shamed" is to be criticised or labeled because of the number of sexual partners a woman has chosen to have. Interesting how there is no similar term used for men based on how many partners they have chosen to be intimate with.
Naomi Wolf once wrote: "If a woman loves her own body, she doesn't grudge what other women do with theirs; if she loves femaleness, she champions its rights." I echo her sentiments. As a woman, there is nothing l respect more than another woman standing firm in her choices without fear of an outdated societal judgment.
I struggle to understand how a woman's sexual choices can become the topic of conversation for others.
While I acknowledge not all men share this way of thinking, it seems that the term "slut" is widely used among their gender. With the increase in the number of men admitting to watching pornography, could it be that their harsh judgment of a sexually empowered woman triggers something within themselves?
If it is wrong for a woman to have numerous sexual partners, then why is it not wrong for a man to sit behind a computer screen and watch numerous women sexually active? Could it be that the reality of a sexually dominant woman threatens their masculinity in some way?
Who actually determines how many sexual partners a woman can have before she is labeled a "slut"? And why is it such a bad thing for a woman to have multiple sexual partners? Isn't this just a reflection of how life works when we have an open heart and mind towards the people that we meet? We connect, there is a desire and sometimes we act on it. Sometimes it can lead to life-long relationships and heartfelt memories. Sometimes it doesn't. As long as safety precautions are taken and both parties are consenting, how can this be a bad thing? The stigma and guilt associated with sex needs to be removed as it is just another area in which women are held back and labeled.
The concern, if any, should be focused more on a woman's self-esteem and her rationale for being intimate. What do people think it does to a woman, in particular a young woman, when her personal life becomes public and, as a result of her choices, she is labeled with vulgarity? She is made to feel shame, worthlessness and judgment for something that is no one else's business
Sexual ownership for a woman is both liberating and empowering. It ensures that we have agency while at the same time demanding respect. We decide what it is we want from sex instead of mimicking a created stereotype thrust down our necks by the porn industry. It's about control, freedom and choices.
I will not be caught in the clutches of a patriarchal ideology that determines who, when and why a woman will be sexually involved with another. The idea of marrying as a virgin and staying that way is outdated and unrealistic. Unless people openly change their views and dialogue, it will continue to be seen as a "dirty little secret" and "slut-shaming" will remain forever in our everyday vocabulary and thinking.
The word "slut" should be removed from the English narrative and not replaced. We need to cast off the limitations imposed on us and take back our power because sexual decision-making is the choice of the individual.