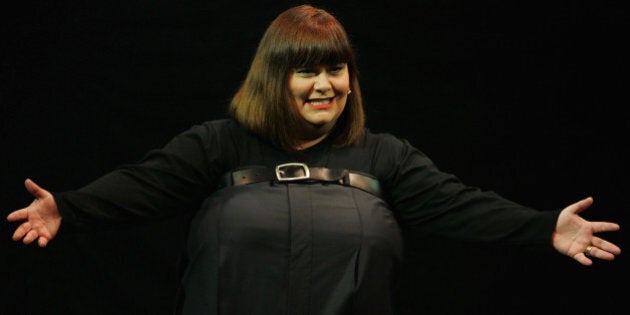 Last week I had the pleasure of watching British comedian Dawn French on stage in Melbourne. For two hours she entertained us with her personal anecdotes and self-deprecating humor, leaving the audience in fits of laughter. She spoke about her life, her parents, her marriages, her daughter and her career.
Then the topic changed to her body.
She talked about her neck, or lack of, that she thought resembled a turkey's wattle, and the audience laughed. Her stomach, she believed, was very special, as it protruded as far out in front as her butt did in the other direction. And just in case we didn't believe her, she lifted her dress to show us. Again the audience cheered and clapped in agreement. She referred to her legs as "stumps" as she pointed out that they were the same size from the top all the way down to her ankle. The audience, by this stage, were in fits of laughter, cheering her on as she stood in front of them pointing out what she perceived to be her physical imperfections.
I, however, was not laughing. I am a woman who takes pride in empowering women, regardless of their shape or size, and I was feeling uncomfortable. I couldn't understand why anyone would feel it acceptable to ridicule her, let alone herself.
And then it hit me. The audience was not laughing at her. They were rejoicing in this fully liberated woman owning her body with enormous pride. There she was, standing in front of hundreds of people, radiating confidence. She didn't hate her body at all; she was just not going to be a prisoner to it.
I spent a great deal of my life hating my body. Regardless of whether I was overweight or at my ideal weight, I was never happy.
My first memory of this was when I was 14 years of age and attending boarding school. I had an enormous crush on a boy, and word had come back to me via my friends that he wanted to meet one evening after dinner. The euphoria was through the roof as my girlfriends and I met in my dorm to prepare. One of the older girls gave me kissing tips whilst the other teased my hair within an inch of its life, (this was the '80s) and I drifted out of the boarding house in a cloud of Anais Anais perfume.
My prince charming was waiting for me at our prearranged meeting place and, without a word, he took me in his arms and kissed me. When he had finished, he took one step back, looked directly into my eyes and said: "Gee Mel, I never knew you were so fat."
Returning to the boarding house I was deflated, humiliated and ashamed. No one had ever spoken to me like that before and I had no idea of how to respond except to say "sorry". My female tribe all gathered around for support and a promise that together we would make his life a misery. But the damage was done, a slither of confidence was stripped from me and, in its place, was a feeling of self-loathing.
Fast forward 30 years and times have changed.
Women are now talking openly about the destructive issue of body shaming, advocating for a society that shows compassion and understanding. Social media has created a safe space for women to share their stories that may have otherwise gone untold, therefore creating social isolation.
The airbrushed media ideal of a woman's body is being rejected as unrealistic and deceitful, as women around the world are screaming for a fair and accurate representation of the female form.
Larger women are able to buy clothes from mainstream stores as designers acknowledge the negative ramifications on a women's psyche to have her clothes referred to as "plus-size".
Everything is heading in the right direction, but still we have far to go.
Looking up at Dawn French from the audience that night I saw a beautiful, clever and incredibly talented woman embracing life rather than letting life embrace her. She was not confined by an imperfect body or by the opinion of others -- in fact, she was fully liberated and doing what she loved to do. We could all take a leaf out of her book.
My own years of body shaming ended in my early thirties after I had given birth to two beautiful girls and realised how much life I had wasted.
And, incidentally, I bumped into the boy from school some 15 years after our ill-fated dalliance. He was short and bald, with burst blood vessels on his face. He asked to buy me a drink, having no idea who I was. I politely declined, getting the closure I needed and another story to share with my own daughters.