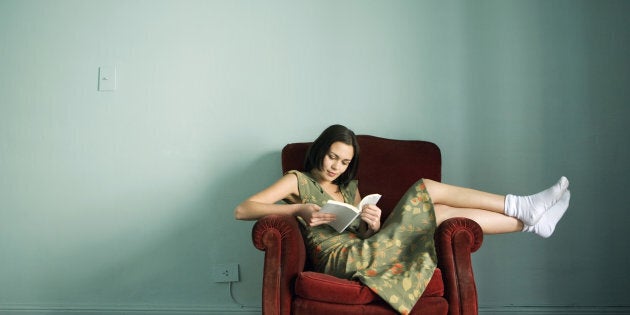 In the corner of my parents living room stands a chair. Regal in appearance, the chair is made up of hundreds of velvet patches and over three thousand brass studs. It is a piece of furniture I know well as it has been in my family for as long as I have been alive.
There is something special about this chair. It feels like a member of my family that has observed me evolve over the years, but still remembers the little girl that once curled up into its arms, thumb in mouth, and fell asleep.
But what is more beautiful than the chair itself is the story of how it came to be part of our lives.
My parents met in the mid '60s and were married not long after. My mother tells the story fondly of when they first met. She was the glamorous city girl and he the boy from the bush, arriving in Melbourne with nothing but the sheer determination to make a success of his life.
He owned one navy suit that had been worn so often it had developed a distinct sheen. My mother remembers fondly after one particular date it being covered in the cashmere from her sweater and worrying about how he would remove it before work the following day. Despite their differences, my mother knew very early on that he was the man she wanted to spend her life with. When he told her about his goals and dreams for his future she believed him. She was a smart woman.
When they were first married they moved into a small flat in an inner city Melbourne suburb and my mother soon became pregnant with my sister. They had very little in the way of furniture and began to furiously save for a couch. At the time they were using outdoor furniture and one black round ottoman in their small living room. After months of sacrifice they had finally saved up a substantial sum to buy themselves their much-needed couch.
They both agreed that quality should be the priority. They didn't have much but shared a desire to only buy the best even if that meant they had to wait for a few extra months before they could purchase. So my father set off to Georges in Collins Street to find the perfect piece. Established in 1880, Georges was located in the prestigious "Paris End" of Collins Street and was considered the most elite department store in the country. Its furniture department was world famous and while they probably could not afford to buy anything there, my father decided to take a look anyway.
Later that night he arrived home and to my mothers horror he had with him what we now know as our beloved Porters Chair.
He positioned the chair next to their plastic outdoor setting and black ottoman and sat back to marvel at its beauty when my mother interjected. "It looks ridiculous," she said, confused. "Why on earth would you buy it?"
His response is something that will stay with me for the rest of my life. "I know it looks ridiculous now, but I promise you, in years to come we will live in a home surrounded by furniture where it will look perfect."
Victor Hugo once said: "Every man should frame life so that at some future hour, fact and his dreaming meet.
Over the years my father worked tirelessly. He had a vision for the life he wanted for himself and his family and nothing was going to stand in his way of achieving this. My siblings and I were raised in a family of privilege, however we never took it for granted. We witnessed the hard work, the sacrifice and the toll it took on my father to ensure that he created and maintained a life where we would never go without.
We moved from house to house and with us came our chair always standing proudly in the corner of the room. Furniture was added, bigger, grander, more expensive, but still this chair was the heart of our home and my favorite piece.
Willpower is our greatest human strength. When my father bought our chair he had a vision as to how his life would turn out and never once did he doubt himself. The boy from the bush with the shiny navy suit now lives in a home surrounded by beautiful things purchased on the sweat of his hard work. And while we celebrate his success, we never lose sight of the pathway he took to arrive at this place.