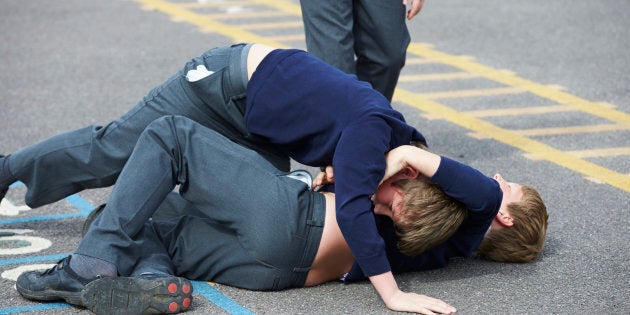 All schools have a legal responsibility to provide their students with a safe environment in which to learn. However, this does not appear to be the case with Nathan Whitmore -- a 16 year old who, last year, tried to end his life after allegedly being repeatedly bullied at school for being gay.
Nathan is now suing Victoria's education department, claiming that the emotional trauma he suffered has impaired his learning and earning capacity. Nathan asserts that he was subjected to constant bullying, harassment, taunting, and homophobic insults as a student at Somerville Secondary College between 2013 and 2015 before he left in Year 9.
Extensive research, both internationally and in Australia, has consistently demonstrated the pervasiveness of bullying and cyberbullying in schools and its far-reaching detrimental effects on students.
School bullying has rightly become viewed as an urgent social, health and education concern that has moved to the forefront of public debate among politicians, the media and school administrators.
Yet despite all the awareness and discussion, it seems bullying continues to be a major problem in schools and, in light of Nathan Whitmore's lawsuit, it is worth examining what should be in your child's school bullying policies.
1. Reference to the National Safe Schools Framework.
All policies should contain a reference to this document. From 2003-2011 the NSSF has been the pre-eminent policy document guiding schools in Australia in respect to school bullying. The document was distributed to all Australian schools and is available online.
The Framework identifies nine key elements to assist schools in planning, implementing and maintaining a safe, supportive and protective learning community that promotes student safety and wellbeing. Failure to cite this important document may give the impression that the school administration had either ignored it or have not read it.
In view of the legal imperative to have an adequate anti-bullying policy properly implemented, the advantages of having addressed the nine elements in the Framework are self-evident.
2. A comprehensive definition of bullying.
One of the lead researchers in the bullying field, Professor Ken Rigby, states that one of the main elements of a bullying policy includes:
"... A succinct definition of bullying with a listing of the different kinds. These include direct bullying as in face-to-face physical and verbal bullying, and indirect bullying as in unfair exclusion, rumour spreading and cyberbullying".
Schools who utilise outdated or abbreviated definitions open themselves up to criticism and consequential risks -- that anti-bullying policy is not up to date and therefore not adequate. It should also clearly state what 'bullying' isn't.
3. Evaluation and annual review.
It is widely recognised by most bullying experts that if bullying policies are going to be effective, they need to be regularly reviewed. The National Safe Schools Framework, through the Safe Schools Toolkit, has developed an online audit tool, designed to assist schools to make informed judgments about the extent to which they have created and maintained a safe and supportive learning environment.
School administrators would be well advised to utilise this tool as part of their ongoing evaluation and commit in the policy to regular reviews. Some jurisdictions mandate regular reviews, for example, the South Australian Department of Education states that, "Schools are also encouraged to review their anti-bullying policy annually and involve parents and students in this process".
4. Put the policy on the school website.
There is little point in having an anti-bullying policy unless it is well disseminated. Making sure the approved policy is made available to the whole school community and is publicly accessible through the school's website is essential.
Not only is there a consensus among many bullying researchers that the implementation of a whole-school bullying policy is greatly enhanced by data collection, the National Safe Schools Framework says a guiding principle of the NSSF is that "Australian schools regularly monitor and evaluate their policies and programs so that evidence-based practice supports decisions and improvements".
6. Professional development for all school staff.
There is a unanimity among many bullying researchers that the implementation of a whole-school bullying policy is greatly enhanced by good professional staff development and training.
The Friendly Schools Plus initiative is a West Australian program based on research conducted at the Child Health Promotion Research Centre (CHPRC) at Edith Cowan University. CHPRC argue that any worthwhile policy should specify professional development is provided for all staff and especially those responsible for implementing the bullying policy. This is particularly important in the area of cyberbullying, where the issues change so fast.
7. Have an overall ethos or declaration around rights and responsibilities.
"A declaration of the rights of individuals in the school community -- students, teachers, other workers, and parents -- to be free of bullying. A statement of the responsibilities of those who see bullying going on to seek to stop it".
It is common for primary schools in Queensland, for example, to have a framed statement or declaration such as the Kandersteg Declaration in the foyer of the school.
8. The role of bystanders.
There is a consensus among the experts that bullying occurs within a group context, with peers present as onlookers in around 85 percent of bullying interactions. Professor Rigby states that all schools must include in the policy document, "A statement of the responsibilities of those who see bullying going on to seek to stop it". Not including any reference to bystanders, given their central role in bullying would also seriously undermine the credibility of any policy document.
9. The establishment of a safe schools committee.
The NSSF recommends the nomination of a representative group responsible for overseeing the school's safety and wellbeing initiatives, and that this group (made up of staff, students, parents and carers) establish a school charter or declaration. The group could also collect data, identify professional learning opportunities for staff and assist in communicating safe school initiatives to the broader community.
Failure to form such a group or neglecting to mention its establishment in a policy document could well call in to question the degree to which the school took the NSSF specifically into account, or the issue genuinely seriously.
10. Being an e-smart school.
The eSmart Schools framework guides the introduction of policies, practices and whole-school change processes to support the creation of a cyber safe or eSmart environment. The eSmart School system was developed by RMIT University in consultation with cyber safety, bullying, education and industry experts from across Australia.
In 2010, eSmart was piloted in 159 schools across Australia with funding from the Commonwealth Department of Education, Employment and Workplace Relations (DEEWR). An independent evaluation of the eSmart Schools pilot found that 96 percent of pilot schools would recommend eSmart to other schools.
Parent education is a crucial and often missing component of the bullying problem. Many schools hold information nights but find attendance is poor. SchoolTV is a world-first wellbeing platform which addresses the modern day realities faced by schools and parents who increasingly need clear, relevant and fact-based information around raising safe, happy and resilient young people.
Whilst there is a great deal of information available, this can often be confusing and overwhelming for parents looking for guidance. SchoolTV addresses this issue. It is an online resource designed to empower parents with credible, sound information with realistic and practical strategies. SchoolTV is a school-branded resource that is available through subscribed schools thus allowing parents to access information on individual topics without having to attend school parent nights.
Although responsibility for offsetting school bullying must be shared and encompass the entire community through parents, the media, governments, and others, as Professor Ken Rigby states;
"The prime responsibility for bullying in schools rests with schools. Schools are where the bullying mostly happens and where both proactive and reactive action can make a difference".
Nathan Whitmore claims he complained to the school's principal, assistant principal, five teachers and the student wellbeing officer about bullying, but nothing was done. His mother, Cathilee, alleges the school also never acted on her complaints and emails. The bullying supposedly only stopped when Nathan reported it to police and Ms Whitmore was granted an intervention order against the ringleader.
It starts with us. All school staff should be careful to model the behaviours of respect and kindness to their peers and colleagues to help build a positive school culture.
Bullying is the young person's problem but the adult's responsibility. It could be argued that if the adults in our schools create a well thought out and properly implemented school bullying policy such cases may be obviated.