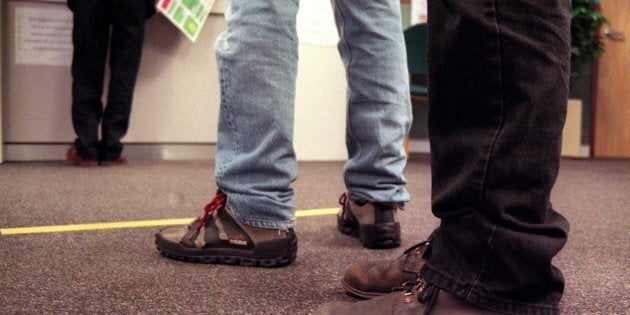 The Coalition Government delivered its best health budget for many years in May. Sadly, there was a major stain on what was an otherwise positive package of health-related initiatives -- the proposal to introduce drug testing for welfare recipients.
This policy is mean, unfair, and totally unnecessary, especially when there are so many positive things the Government could be doing in the health and social policy sectors.
Drug testing is not an evidence-based measure. It is poor policy. It is divisive. It is a wedge. It is a distraction. It is most unlikely to work. The AMA strongly opposes it.
It is a widely held aspiration in the community for people on welfare to, wherever possible, return to a productive life in the workforce. If you discriminate against them, if you impair their return to full functioning by labelling them as a drug user, then you reduce the likelihood that they will be able to get their life back on track.
Even where the welfare system cannot get people back into the workforce, we want it to help them to contribute to our community in some other way.
The overwhelming majority of people do not end up on welfare by choice. Many arrive there through misfortune or tragic circumstance. They need a hand up, not measures that push them further into despair and lack of opportunity to turn their lives around.
Alcohol is Australia's biggest drug problem. It accounts for the majority of workplace accidents and injuries. It kills productivity. It destroys families. It ruins lives. How about we start there?
We don't expect people in most industries to have drug testing before they turn up to work. Picking on welfare recipients is simply unfair. It is preying on an already disadvantaged and marginalised group in society.
It would be far better to put funding and resources into education, rehabilitation, and health care services to help turn things around. To invest in hope.
Services for drug and alcohol rehabilitation throughout the community are already stretched. Shaming people who are already struggling won't help.
The available evidence from overseas indicates that this type of drug testing is not effective.
In the USA, drug testing of welfare recipients has been largely ineffective. According to 'Time' magazine, in a trial in Tennessee in 2014, only one person in the 800 who applied for welfare assistance and was drug tested was found to be positive.
In Florida, during a four-month State-tested program for drug use, only 2.6 percent of welfare applicants tested positive, although the illegal drug use rate in Florida is 8 percent.
'Time' reported that "the drug testing cost taxpayers more money than it saved".
In Michigan, only 2.6 percent of welfare recipients actually tested positive for drugs, which the court found did not demonstrate a substantial drug problem among welfare recipients.
Eventually, appeal courts found the laws in both States unconstitutional.
Both the UK and Canada abandoned policies to introduce drug testing for people on welfare.
An academic paper in International Journal of Drug Policy, 'Thoroughfares, crossroads and cul-de-sacs: Drug testing of welfare recipients', by Emma Wincup, concluded that drug testing of welfare recipients would only identify "a minority of welfare recipients", and there was insufficient evidence to justify the financial and human costs [in the UK]. The policy was described as "a solution in search of a problem".
In the UK, the Trade Union Council noted that, even though drug testing accuracy has improved, there are still situations where a person has tested positive for taking legally prescribed medication.
As the AMA understands the Australian legislation, it is welfare recipients who have to pay an undisclosed amount for a second test should the first prove positive. This could leave a vulnerable person on welfare with a large out-of-pocket expense, even though they have been taking only prescription medication.
A further concern is that the proposed welfare recipient drug testing cannot indicate when a person took a substance, and if that renders them unfit for work.
Social Services Minister Christian Porter has said the Government's position on drug testing welfare recipients is "entirely focused on helping job seekers overcome drug problems" and not about "penalising or stigmatising" them.
The problem with this approach is that it equates a positive test for an illicit substance with a 'drug problem'.
Testing of alcohol, such as random breath tests, are instantaneous and indicate the level of intoxication and impairment to drive. With some illicit substances, testing cannot determine when a substance was consumed, whether the user has a 'dependency' or 'drug problem', or if it was one-off or recreation use.
Other factors -- such as mental health, alcohol consumption, and fitness to work -- are critical. Drug testing alone is not a reliable indicator of a person's ability to work.
This policy is wrong. The Government should turn its attention to other social policy priorities.
Alcohol is Australia's biggest drug problem. It accounts for the majority of workplace accidents and injuries. It kills productivity. It destroys families. It ruins lives. How about we start there?