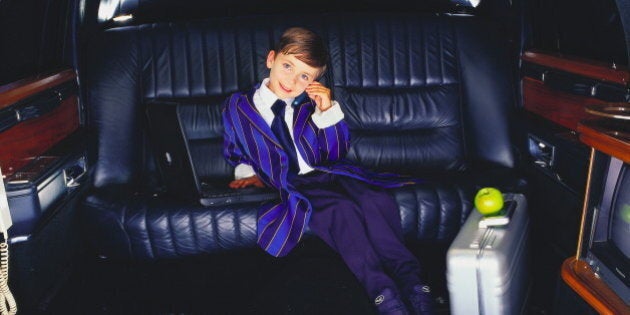 It's six o'clock in the evening at your local primary school. A stretch limousine pulls into the staff car park, only a few metres from the sandpit where five-year-olds play during the day.
Curious, you stop to see which celebrity is paying your local school a visit. A chauffeur steps out and holds open the left-hand door. You crane your neck to get a glimpse of the visiting VIP but instead witness half a dozen overdressed 12-year-olds stumbling out of the car, all trying to outdo each other in the fashion stakes.
They gather. They giggle. They arrange clothes that don't quite fit and together they march past the sandpit into the school hall.
Welcome to 2015, where rocking up at your primary school graduation in a stretch limo is the ultimate arrival.
While not every school's graduation is like that -- and a relatively small number of students will actually make it happen -- the fact that many kids consider it as a possibility shows how far the notion of normal has shifted.
So what's the big deal with arriving in a limo? Nothing, if stretch limousines and helicopters are in your family's regular fleet. (In which case they'll obviously save up the chopper ride for their secondary school graduation). But if they are like the majority of the population whose parents drive around in a four-door sans chauffeur then the whole limo-thing is a tad excessive.
But isn't it good to splurge on kids once in a while? Sure, it's great to treat kids a little differently and even a little older than they are for special events -- but that doesn't mean we should treat kids like the adults they are not. The trouble with popping your kids in a limo for a night is that you are giving them a treat that is cheap by association and nasty in its divisiveness.
Stretch limousines were once a novelty associated with celebrity and status. Now, they are a dime a dozen, more likely to carry teenagers and twenty-somethings for a night of cruising and boozing than transporting genuine celebrities around. Allow your child to travel in a limo like a grown-up and you tacitly align him or her with all the other activities associated with this mode of transport.
The primary school graduation should be a night that brings kids together to honour their primary school years and farewell the teachers and friends they shared this brief, formative journey with. Taking a stretch limo is a narcissistic act that says to everyone: "Hey, look at me! I'm pretty cool/rad/mature because I'm acting older than I really am."
It immediately places a child in a group separate from those who don't come in a stretch limo. There will also be two groups of parents in attendance -- those who gave their child permission to travel in 'style' and those who either couldn't afford it or didn't cave in to their child's pester power.
So if you are contemplating allowing your child to take a stretch limo to his or her primary school graduation event, I suggest you think again. And if you're struggling to counter the usual "Everyone else is doing this" argument that your young person may try out, then here are a few sentences that may help:
"I don't think it's appropriate for your age. Ask me again when you finish secondary school because I think it may make more sense then. In the meantime, enjoy your primary school graduation night. Don't forget to thank your teachers for all they have done for you. And make sure you spend some time with as many of your classmates as you possibly can because it is them, not your mode of transport, that will make this night special."
Then, congratulate yourself for swimming against the tide of popular opinion, which is one of the hardest things to do in modern parenting.