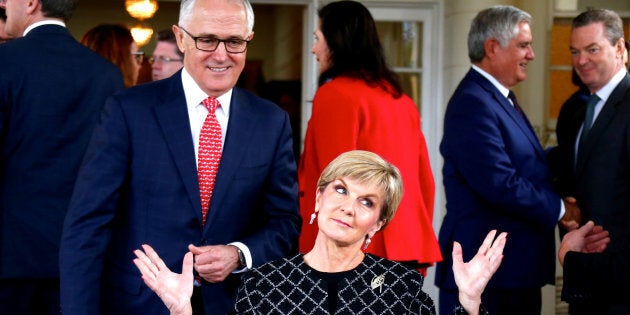 The Turnbull Government's new Foreign Policy White Paper is a missed opportunity for Australia to show bold and determined leadership in the fight to end extreme poverty.
Launched by no less than the Prime Minister himself, the paper makes reference to Australia's responsibility to alleviate poverty, particularly in the Indo-Pacific region. Indeed, it argues explicitly that "as a prosperous country, Australia has a responsibility to contribute to global efforts to reduce poverty, alleviate suffering and promote sustainable development".
And to give credit where credit is due, the paper includes a strong reiteration of Australia's commitment to achieve the Sustainable Development Goals -- the United Nation's 17-point plan to end extreme poverty, achieve universal health coverage, mitigate climate change and reduce inequality by 2030.
Welcome as well is the the explicit acknowledgement that economic growth in the Indo-Pacific region must be inclusive to ensure remote and marginalised communities are not left behind.
The paper admits the fact that 10 percent of the world's population -- some 750 million people -- continue to live on less than $1.90 a day. This speaks for itself as to where Australia can have a significant and positive impact in the world.
The continued neglect of Australia's aid program is not only out of step with community values, but ultimately with our own history.
Yet for all the lofty talk and rhetoric, the new approach is lacking in substance when it comes to recognising Australian Aid as a core foreign policy priority. Indeed, the reference to having a "responsibility to contribute" almost rings hollow given the Turnbull Government's own recent performance on this issue. After all, this is the same government that has presided over the biggest aid cuts under any government in Australian history.
That the new foreign policy paper is meant as a long-term comprehensive policy framework, designed to lay out overall priorities as opposed to propose specific measures, is no excuse for this admission.
Despite accounting for a much smaller percentage of government spending, however, no such increased commitment to Australian Aid accompanied the launch of the Foreign Policy White Paper. This is despite the fact that alleviating poverty is both the right thing to do for a prosperous nation like Australia, and in line with our international obligations under the Sustainable Development Goals.
Additionally, the lack of any signal to significantly increase the scale and scope of Australian Aid goes against one of the explicit objectives of the new paper; specifically, to keep "our Indo-Pacific region secure, open and prosperous".
As I've argued before, investing in efforts to reduce poverty, raise healthcare standards and provide access to education among developing countries in our region is arguably just as critical to defense spending in safeguarding regional prosperity.
That the paper does not treat the Australian Aid program as a core foreign policy priority also overlooks the strong support expressed in the community for Australia to show bold leadership here.
As the Government's own report of its public consultation process highlights, more submissions were received in support of a stronger Australian Aid program than any other issue.
Likewise, a quick review of the #FPWhitePaper hashtag on Twitter -- which the Government encouraged people to use to register their ideas -- reveals that Australian Aid was consistently (and positively) mentioned. Indeed, our own Global Citizen supporters alone made more than 15,000 individual tweets as part of the consultative process.
The continued neglect of Australia's aid program is not only out of step with community values, but ultimately with our own history. Past governments of both political persuasions have been both willing and capable of shouldering a leadership role in pursuit of the global public good -- often for no other reason that it being the right thing to do.
Former Foreign Minister Gareth Evans recently recounted in his new book, 'The Incorrigible Optimist', how Australia led the charge in mobilising sanctions to end apartheid in South Africa, despite it being "so little of our own making".
Similarly, it should not be forgotten that it was under none other than John Howard's watch when the Australian Aid program first begin to significantly increase; only to be slashed right back less than a decade later.
Ultimately, much will be written about the merits and shortfalls of the new Foreign Policy paper in coming days. As someone who has observed closely the foreign policy of this Government in recent years, from both near and afar, it serves to reaffirm for me personally a disconcerting trend.
Namely that for all the lip service government ministers may pay to Australia's responsibility to contribute to the alleviation of suffering and poverty in our region, our aid program continues to lack the attention it deserves.
The drastic cuts that have been imposed are set to become one of the unfortunate legacies of this Government. Of course, there is still time left to reverse this, but with just a year and a half left at best until the next federal election the clock is ticking.
For the sake of the world's most vulnerable and remote communities, I hope the Government changes course.