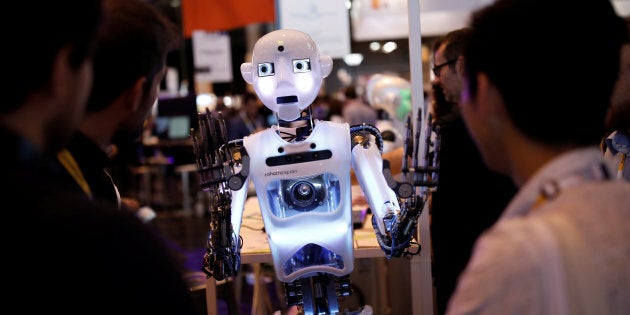 Humans don't like change. We like familiarity, the way we've always done things can't be wrong. If it ain't broke don't fix it. It comes as no surprise then, that when we read about the future of work, or the future of the connected home (where robots and business infiltrate our lives) -- we become fearful.
It's the stuff of dystopian movies, a big unknown. Yet we hunger for information, we hunger for the digital dopamine release. Like Frodo in 'Lord of The Rings', we are drawn to the precious screens that harness the almighty power of the internet and the information it brings.
That's all set to change, and it may not frightening change, we might just fall in love.
The talking, voice-activated assistants are on our doorsteps. They speak our language, the familiarity and safety of a language that you have always spoken. In fact, some speak English, French, Chinese, Portuguese, German, Italian, Spanish and Japanese. Far from foreign they will feel very familiar; we will want to have a very personal, very human and natural relationship with them.
It is at that point that we will fall hopelessly in love with voice technology and wonder how we ever lived without it.
Voice technology like Amazon Alexa, Google Home and Apple's HomePod will all be available in Australian homes soon. These smart devices will respond to your every command, from adding items to your shopping basket to accessing entertainment and telling other connected devices what to do, such as 'turn on the lights'. It will also respond to basic search commands that you would normally have to type into a browser. Layer Artificial Intelligence on top and you have a truly obedient device that is helpful, that listens, that learns and takes action.
There is nothing more natural than communicating via language and voice. After all, we can speak before we can write. Voice is the most human of interfaces. When humans can interact with technology that feels intuitive, just as the introduction of the touch screen first showed us, we adopt that technology quickly. Voice is simply quicker than typing, it's more fun and interactive, and unlike early speech recognition software it will be more accurate in its response.
Voice activated technology is also assisting in the public service arena. IBM Watson have been working with the NDIS (National Disability Insurance Scheme) creating voice assistants that can help people with disabilities interact with the organisation to get the results they need. 'Nadia' the voice assistant is the voice of Cate Blanchett, the more you interact with Cate the better she knows you and the more accurate her help will be.
Physically voice-activated services have the power to liberate. When you are not trapped, head down and fingers glued to your phone or keyboard, you become more available for social interactions, sporting activities and can pursue greater interests. All without sacrificing our precious addiction to information.
It is at that point that we will fall hopelessly in love with voice technology and wonder how we ever lived without it.
And love we will. As voice becomes more sophisticated and can speak back to us with added understanding of previous requests, we will risk becoming more emotionally attached than we should. Gartner predicts that by 2020, the average person will have more conversations with bots than with their spouse.
So swipe away your old Siri blues and get ready to fall in love with your voice activated personal assistant.
ALSO ON HUFFPOST AUSTRALIA