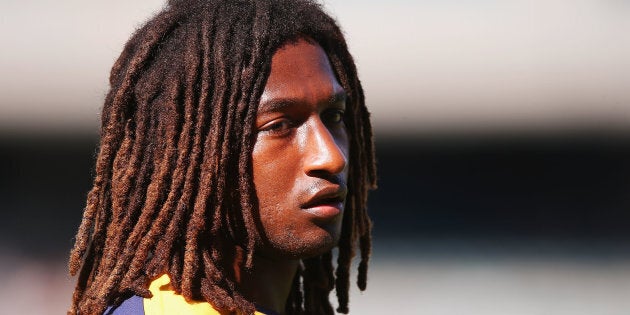 A father has dressed his son as drug-troubled former AFL star Ben Cousins, complete with white powder on his nose, in response to the outrage displayed over last week's Book Week incident, where a mother sent her son to school with skin painted black as part of his costume as AFL footballer Nic Naitanui. The Cousins photo is captioned with the dad's comment that people need to "lighten up" in response to the "Nic Nat issue".
My initial response was "That's hilarious! This dude wins the internet with this brilliant pun!" And then I realised that despite encouraging people to view his actions and words as a joke, he is being serious.
This dad is being serious when making fun of someone's drug addiction. And he's being serious when he suggests we see the humorous side of a young child being painted black to represent an Aboriginal person. And now social media has exploded with outrage again.
So, I have one overriding question: when the f*** did Book Week become so freaking political?
Book Week is about two things only; books and kids. I'm passionate about both books and kids, so I'm pretty annoyed that people are ruining it. It's a super fun week at my son's school. There's a chance for the students to make themed models, have a "special friend" read to them in the classroom, and then, of course, the costume parade.
But some parents get over-excited. They spend days making the themed models, or waste a week of late nights putting a costume together... or splurge $50 on black shoe polish.
In all seriousness, Book Week should be more fun than that. The week is not actually simply about books and kids -- it's about how children interpret books, and our role as adults in encouraging healthy and respectful discussion. And the parade, especially, is about demonstrating their own love of the characters according to their personal interpretation.
A couple of years ago, my gorgeous little nephew went dressed as Dumbledore. There was absolutely no discussion about him not being able to go dressed as his hero because he was the 'wrong' colour. It never crossed anyone's mind. It wasn't even mentioned by a kid at school. I used him as an example in response to the "Nic Nat issue" on Facebook last week. I wrote: "You could never tell him that his skin colour prevents him from being Dumbledore; that would be ridiculous. He's a kid - not a colour! So, to the mother who sent her son in blackface to school for Book Week this week next time, use your imagination, not shoe polish. People are so much more than the colour of their skin."
A costume is just that -- it's not meant to be an exact replica. I find it much more impressive if you've used your imagination and let the clothing and your attitude do the talking.
Because, at the crux of it, not being defined by your skin colour is a luxury that many of us don't enjoy. That is the problem with blackface; how that definition can affect you. We are all so much more than the colour of our skin.
So let's not use the kids as political pawns and try to do better next year.