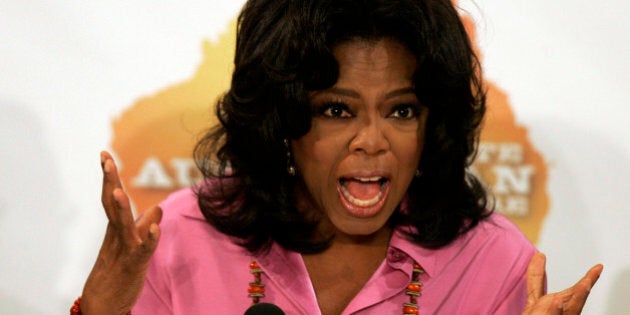 I saw Oprah Winfrey at the Sydney Opera House almost five years ago exactly, and I am seeing her again in Melbourne this week.
The reaction I get when I impart this exciting information to people is mixed, ranging from polite nods with immediate topic changes (from acquaintances/frenemies), to outright laughter and ridicule (from closest friends).
I have been asked several times if I will get a car, in reference to Oprah's gift of a Pontiac to every audience member at a recording of her show years ago. I sigh in response. But I also accept that many people who did not spend their early twenties using The Oprah Show as their daily 1 pm "study break" may not know that Oprah is so much more than her extravagant headline-grabbing giveaways.
I'm not here to convince you how amazing Oprah is as an individual. I won't detail her inspirational rags to riches story of how she was a media pioneer who smashed glass ceilings and racial barriers to become one of the world's most influential media identities, or highlight that she is currently North America's only black billionaire.
I won't bore you with the details of her well-documented philanthropy, which has included, amongst many other things, building a school for girls in Africa, and founding The Angel Network, which supported Habitat for Humanity (and other causes).
I'm sure you don't want to read that her Book Club was responsible for an entire generation of desperate housewives all around the world using books instead of booze to get themselves through the day, which then kept Barnes and Noble in business for a decade. And I know I will just encourage your dismissal of her as merely a "self-help" guru if I repeat her wisdom such as "listen to your intuition", "when you know better, you do better" and "you teach people how to treat you."
To me, Oprah is so much more than all of that, anyway. She was a pivotal part of my wider education and, more importantly, she has educated the world on some ground-breaking topics. When I say Oprah is a media pioneer, I mean that she used her show to make her international public aware of some very significant, and historically highly-taboo, issues. Her willingness to address topics that others wouldn't has shaped our ability to discuss them openly today, much more than her detractors may realise.
In 1987, the world was in the grips of the AIDS epidemic, and Oprah publicised the story of a man in Virginia who swam in his local swimming pool, and who happened to also be HIV positive. The council closed the swimming pool the next day due to widespread fear of HIV transmission. Sadly, the episode may not have brought about immediate awareness in that community, but the story helped to educate Oprah's massive audience about the disease and its sufferers at a time when such understanding was needed the most.
In 1997, Ellen De Generes came out as a lesbian on her comedy show, Ellen, at massive commercial risk to the show and her career. In "The Puppy Episode", Ellen discusses her concerns with her therapist, who is played by Oprah Winfrey. Because this happened almost 20 years ago, many people today do not realise the pivotal role Oprah played in the career of someone who has become one of the world's leading and most popular gay rights advocates.
The episode that revolutionised my way of thinking about colour and race first aired in 1992. Oprah conducted a fascinating social experiment where people's perception of eye, hair and skin colours were challenged. For example, the episode examined how "nude" stockings and "skin coloured" Band Aids mean nude for white skin rather than nude for coloured skin, demonstrating the dominance and inherent privilege of one race, and that people can make subconscious assumptions about others based on their pigmentation no matter how much they believe they don't. The social experiment opened the eyes of the studio audience and was a milestone in initiating conversation about racial stereotypes and prejudice.
Oprah's show also spent years drawing people's attention to sexual abuse, and again was a pioneer in the public discussion of the issue. Oprah scrutinised how and why sexual abuse happens, tried to understand the perpetrators and thus teach us how to minimise the risks for our children, introduced us to the concept of "grooming" and, most importantly, created a support environment so that victims could speak out by showing them that they were not to blame for what happened. Such open discussion was revolutionary on television, and gave support and hope to millions of victims in hundreds of countries.
Oprah's aim in dealing with these tough topics was part of her grand scheme to get everyone to "Live your best life", which is her motto. Deal with the bad stuff, move forward, get the most out of each day and do things and be with people who get the best out of you. Simple.
For the record, I didn't get a car at the Opera House -- but I did get a diamond necklace in the shape of an "O", and the chance to witness one of the most influential identities of our time make history at one of our national icons.
And that beats a crappy Pontiac any day.