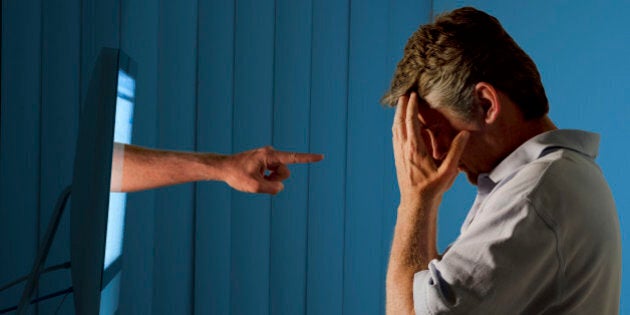 "I'm sick of wankers in my newsfeed checking into the Qantas Club on Facebook before their fancy Easter breaks," I read on a friend of a friend's public Facebook status that appeared in my newsfeed last weekend.
Reading this in bed at 10 am on Easter Monday, whilst I scoffed liqueur Easter eggs with my coffee, it was hard to muster even empathetic indignation. By calling people "wankers", obviously Anti-QC Dude sees check-ins to airport lounges as boasting of some sort. I would have commented "#tallpoppysyndrome" on his status if I actually cared enough about his affronted attitude to perform my first act of internet trolling, which I didn't. Instead, I decided to write this article, dedicated to the Anti-QC Dude and the other general FOMO-Outrage social media users of the world, with the main message: it's not all about you.
These sorts of FOMO-Outrage comments are all over social media, and I've never understood them. Why did it matter so much to Anti-QC Dude that his presumably hard-working friends were relaxed and comfortable before embarking on their well-earned holidays? Aren't we supposed to be happy for our friends? Did the Qantas Club check-ins remind Anti-QC Dude that some people have more disposable income for luxury items than he does? (Sorry buddy, but most people in the world are in that position.) Or that people have values different to his? Did his displeasure with either of those concepts, expressed in a resentful status -- the success of which was dependent on his audience's agreement via Zuckerberg's emoticons -- do anything to increase his happiness with his own life?
I have often said "I'm missing a chip" because, generally speaking, envy, judgment and competitiveness, the feelings that incite FOMO, don't come naturally to me. I'm just not built that way. Occasionally I do wish I were more competitive -- I might be a tad more successful in life than I am now -- but I'm just too lazy and/or selfish to be constantly comparing myself to other people.
Admittedly, when Kensington Palace recently released pics of Kate and Wills and their simply divine kids frolicking in the snow, I sent a screenshot to my sister with the caption "whatever". But that had more to do with the fact that I'd love to have little kids again -- you know, that age where they actually need you and think you rock and don't respond to a lovingly prepared bowl of instant Mac and Cheese with "Not again! Why didn't your mum teach you how to cook?"
So while there might be some aspects of someone's life that I'd like for myself, I don't resent them for having those things. My friends actually call me a "like tart" because I like everyone's posts and comments. I do that because I am happy for my friends, and I want my friends to be happy. I've seen far too much of the ugly side of life to be wishing that constantly on people I love (or on champion procreator Kate Middleton).
I hear people complain that social media helps users cultivate perfect images of their life, but I think that's an over-simplification. While I do see a lot of posts about unwell children, the loss of loved ones, and feeling overwhelmed with life, I acknowledge that the majority is happy information about good times; happy marriages, beautiful kids, the purchase of a new home or car. I really don't see the problem with that. It's human nature to want to share the good times with our friends and family. Many experiences in life are more meaningful if they are shared with friends and family, especially with those who don't reside in the same city or country. Isn't that the point of "social" media, after all -- the sharing of life -- even if it is usually just a snap-shot of the good times?
In the extremely unlikely event that I am wrong for the first time ever in my life, and the glamorous photo or exclusive check-in is about "showing off", then doesn't that indicate a need for approval in that person which you actually wouldn't want to have? So I say let those people have their moments.
I have known a few friends who block other friends, delete them, or delete their own accounts altogether because they cannot cope with witnessing the happiness in other people's lives. I can understand the merit in such actions if you are struggling in your own life -- if it helps you tune out and focus on yourself. (Maybe that applies to Anti-QC Dude -- although I still didn't think he needed to be mean and call innocent travellers wankers.)
But if you do it because you feel inadequate in comparison to other people, my tough love advice is this; people you know or don't know, are getting together, doing fun things, spending money and living life, regardless of whether you see it online or not. If you scan social media every Monday morning to see how everyone spent their weekend, keep in mind that just because you didn't see it online, doesn't mean it didn't happen.
Because, for every person who likes to share their lives online, there is someone who is not posting their holiday snaps, but is untagging themselves from photos, sending pics of an event through a private thread or replying to an invite to a secret event that you didn't get. That's just life. You will most likely see/read/hear about it eventually.
It is a dangerous thing to rely on what you see on social media to measure your life's FOMO/satisfaction ratio. So take your social media with a proverbial grain of salt if you need to make it more palatable. Or, do as I do -- get into bed with some liquor Easter eggs (a glass of wine will work just as well) and start work on becoming the "like tart" in your group of friends.