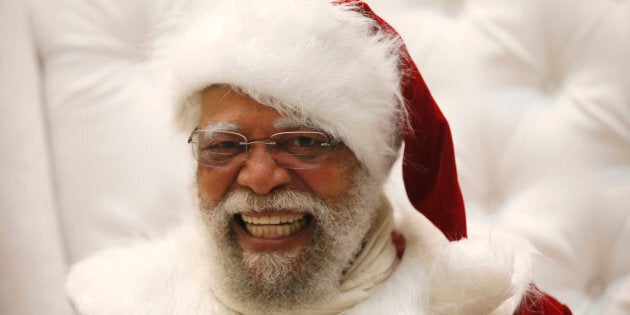 2016 was an utter disaster on a global scale, but one amazing thing did happen. It was heartwarming to see America vote yet another Person of Colour into Presidential office. Orange officially became the new black.
After this unpresidented step forward for orange people, it seems we are now in a world where anything is possible for People of Colour. Joining this groundswell of support for POC was the Mall of America, who last month appointed their first ever black Santa. While black Santas are not a new concept, and have existed in American shopping malls for many years, the appointment of this particular Santa made international headlines because of the racist outrage in response to the announcement.
I, however, on the other side of the world, could not have been happier to hear of such a glorious thing as a black Christmas character. You see, ever since I was young, I have been advocating on behalf of little girls everywhere to shake up the Virgin Mary. I remember watching, year after year, the prettiest girl in the class get selected to be the VM. Now, I don't mean to be blasphemous, but surely my teachers could have used some creative license 1984 years after the birth of Christ and given an extremely talented, albeit slightly chubby Indian girl a go as something other than the donkey.
This creative license doesn't even apply in the case of Santa, who is a totally fictional character that is not even from a book, and whose image has appeared in everything from Coca Cola advertisements to movies such as Jingle Balls. In 2016, Santa is not a sacred character that can't be adapted and interpreted.
A black Santa is, however, an awesome break from tradition, and obviously serves to help children from different backgrounds feel more included in Christmas; which, in 2016, is about love, togetherness, gifts and FOOD, and absolutely not just about the birth of Christ. Sorry, Jesus, but Christmas is no longer just all about you.
All of this has made me ask: why stop at Santa and Christmas? Here are some other things the world could allow a little colour into:
Dodgy lawyer characters
A POC could surely do a solid Saul Goodman, Dennis Denuto, or Lionel Hutz. I know from personal experience this would work... I used to be a dodgy lawyer.
Aussie blokes and sheilas
The quintessential Aussie on our screens is never a POC -- think The Castle, Kylie Mole and Kath and Kim. Trust me, considering the looks I always get when I order my favourite drink of Bundy and Coke, or belt out Khe Sanh, I know for sure that I can fit that Aussie stereotype perfectly. I just need someone to give me a chance on national television.
An Australian Prime Minister
We have so many of them a year, surely one of them could be a POC?
You might think these suggestions are too extreme, and that I shouldn't buck tradition. Admittedly, I am not normal. In my house, Santa is not only black, but is also female! Gasp! That is because I take full credit for thinking of and paying for every gift that is given in the house. Why parents allow some random character that doesn't even exist to enjoy the present glory is beyond me.
But perhaps a female Santa is much more realistic anyway. As Connie said in Fresh Off the Boat: "Do you think a man is thoughtful enough to give presents to everyone in the world? Do you think a man is organised enough to make a list of the behaviour of every single boy and girl?"
But I know the world is not yet ready for this kind of thinking. Until then, I can only dream of a day when the Magic Cave is a diversity nirvana filled with orange, female Santas.