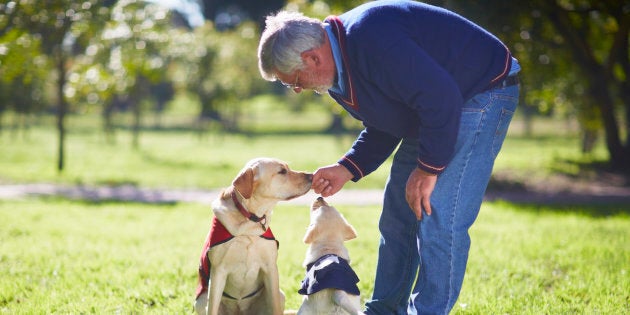 "Well he stinks, he has a thing for mouse bait, licks himself a lot, leaves SO MUCH F**KING HAIR everywhere, but despite all that, he is so awesome I can't even describe."
No, dear reader, this is not a description from a newlywed wife about what married life with her husband is like after their wedding. It is a statement from my friend Jimmy, about his guide dog puppy, Banjo.
Jimmy has been Banjo's Puppy Educator for about 18 months, when he signed up to be part of the Royal Society for the Blind (RSB) Guide Dog program. Having heard that doing this requires some commitment, I asked James why he did it. Because he wouldn't straight out say: "Because I'm a decent guy with a good heart who believes in contributing where I can," Jimmy explained that he had a friend who'd trained two Guide Dogs, so he had witnessed the process being an extremely rewarding and positive experience.
Despite Jimmy's humble attitude, I think this is a big deal. I'm impressed he's doing this, because this is a very important job with life-changing consequences for the end-user.
Essentially, a Guide Dog is a mobility aid and companion for a person who is blind or vision impaired. They are also used by children with autism, and people with post-traumatic stress disorder. They are intended to help reduce anxiety around daily tasks that others take for granted, so that owners can live life to the fullest. Basically, the dogs allow a person to be independent in a way they couldn't previously, which is how they change people's lives.
But while Jimmy likes to shrug off the significance of his purpose, he loves talking about Banjo, who is, undoubtedly, one of the best behaved dogs I've ever encountered. (The only better behaved dog I've known is owned by a former police officer and mum of four -- enough said.)
Being a Puppy Educator requires an approximately 18-month commitment, after which time the pup is assessed for its work suitability. You are not supposed to leave the dog unaccompanied for more than two hours, which is not as hard as it sounds, considering the animal, by law, is allowed to accompany you everywhere. Which I found really cute in practice, because Banjo is pretty cute. (Jimmy, however, is nowhere near as cute, so I didn't enjoy going places with him as much.)
Watching their interaction, it's obvious that Jimmy absolutely adores Banjo, so I had to ask how he feels about relinquishing him in the very near future. Jimmy explained that he's only a custodian who is training a working dog for a specific reason, and so that has helped him not form a pet-owner attachment. For example, there are not cuddles on the sofa while watching a movie, and there's no sleeping with Jimmy on the bed. That kind of bond can be created with the person that Banjo will eventually be a companion to.
Nevertheless, spending time with the Puppy Power Duo, it's clear that man and dog love being together, and it's actually easier than it looks, because they have developed a natural affinity.
So, here are some facts about The Puppy Educator Program to help you think about whether it's something you could see yourself doing. The program is well-established, and is designed to make it as easy for families or individuals as possible. All maintenance costs of the dog are met. You don't need to be a current pet owner, of have pet experience. There are interviews, a police check and a property inspection, to assess your suitability. And then you simply need to walk your pup once a day, not leave the it alone for longer than two hours, allow it to sleep indoors, and then attend fortnightly training with RSB staff. If you have kids or current pets, it's considered a bonus for the pups, as it provides opportunity for socialisation.
It costs more than $25 000 to breed and train a guide dog, so the program wouldn't be possible without volunteers like Jimmy. If you couldn't commit to being a Puppy Educator, you could help by being a puppy sponsor. But organisations such as Guide Dogs Australia and the RSB always need more volunteers to give them some time. So, if you're willing to put up with someone who "stinks" and "leaves hair everywhere" as a spouse in the name of love, consider doing it in the name of love to change someone's life -- and yours, too.