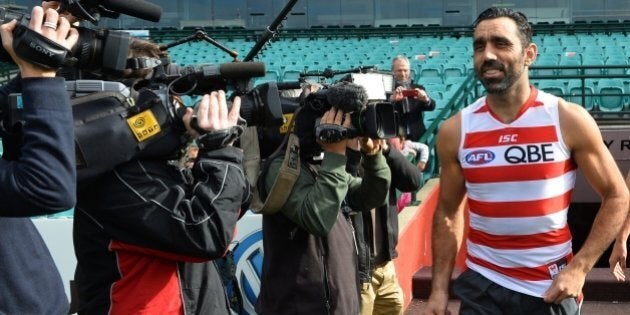 "Is football really so important?" asked a bunch of professors looking at how sport is covered by the media.
The short answer, they concluded, was yes, if the number of reporters accredited to cover the AFL was anything to go by (four times as many as the number of reporters covering federal politics from the Canberra press gallery, in case you were wondering).
That sport is a religion is true in a metaphorical sense thanks to its public profile and status, coupled with an obsessive devotion to its practice by followers -- in Australia, anyway.
Globally, sport has been tied historically and theologically to formal religions, predominantly Christianity.
It's not much of a stretch to extend the 'sport as religion' metaphor, to one invoking war.
Professional sport pits team against team, or country against country, with a narrative of conflict underpinning the story of the battle unfolding on a court, ground or pitch.
The practice of following a sport or team can be seen through the lens of identification with a social group and as a way to understand and embrace a new environment.
But while conflict between different 'tribes' of fans within a sport -- or of fans of different sports -- seems to be part of sport's DNA, there is a line that, it seems, sports fans don't want crossed.
The majority of voices on the treatment of Adam Goodes (including that of his own and other professional Aussie Rules football clubs, the players' union, the sport's administrators, and most of the mainstream media) agreed the booing had gone beyond friendly banter and had become racial abuse.
While Goodes' treatment forced a sports-obsessed nation to take a serious look at spectator behaviour, it's just one chapter in a long saga documenting the sorry way high-profile Indigenous Australian sportspeople (who are over-represented in the professional tiers of Goodes' game) are treated by fans and, sometimes, by the apparatus of the sporting industry itself.
And it's not as if Collingwood club president Eddie McGuire was straying from form when he described his state's sports minister as a 'soccer-loving Turkish-born Mussie'.
McGuire's known for his verbal mishaps, including the time he called Goodes 'King Kong'.
Day-to-day reporting is the bread and butter of journalism, and so most 'news' stories (including those about Adam Goodes, or Eddie McGuire) aren't actually new, but developments in an existing story.
In the case of Goodes, one development in this story of a line being crossed in the sporting battlefield came the week the Aussie Rules superstar withdrew from a Swans fixture because of the booing.
The Richmond Tigers Football Club, joining other clubs in gestures of support for Goodes, decked its players out in Dreamtime jerseys -- the kit the Tigers players wore for Australian Rules football's designated Indigenous round a few months back.
There, on one of the country's most hallowed sporting arenas in the Melbourne Cricket Ground, was Bachar Houli -- a Richmond player who happened to be (extremely visibly) Muslim, wearing his club's Indigenous round strip, helping his much-maligned side to a sweet victory over the reigning AFL champions the Hawthorn Hawks.
To Australia's shame, Goodes' story has spread around the world, but it is images like that of Houli and not the sound of racist abuse that should -- over time -- be a defining part of the story of sport's tribal nature.
Nasya Bahfen is a senior lecturer in the School of Media Film and Journalism at Monash University and an AFL Multicultural Community ambassador. Visit www.nasyabahfen.com