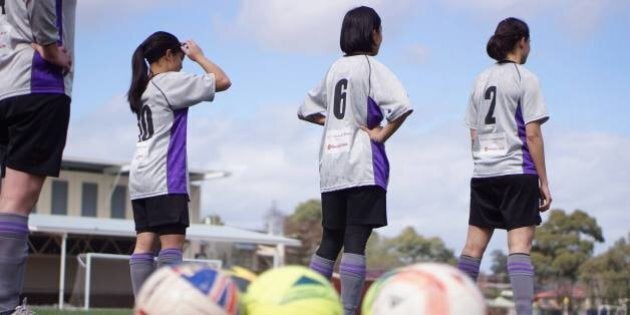 One by one, the teenagers rocked up to the reserve in the outer Melbourne suburb of Ardeer -- a sea of eager faces on a chilly June morning, when a soccer teammate who worked for Melbourne's Centre for Multicultural Youth had asked for help from our club with running a coaching clinic and barbecue.
The Centre was co-hosting the event to mark World Refugee Week.
With three other players from our club (the Maribyrnong Swifts) I laid out cones, and we took the young men through a warm up. Some of them had never done a warm up before, and few wore shin guards.
They are passionate about the game, and show varying levels of skill. After a scratch match, I speak to a youth worker from the local council, and ask if the boys play for a regular side.
"We looked into local men's teams, but the costs were just too prohibitive for their families," she replied. So they were keen, but couldn't afford the registration.
I wish I could say I was surprised at her response.
The lack of shin guards and the unfamiliarity with things as basic as warm-ups reminded me of some of the young women who took part in a program the Swifts ran for CALD groups in the City of Maribyrnong, and who showed up in sandals.
Sandals. To play soccer. (We instituted a boot drive after that.)
The boots. The shin guards. The (sometimes outrageous, but we'll get to that in a minute) registration costs. Transport to training and games. It all adds up -- especially if you have more than one child who wants to play.
When did soccer become so expensive?
Sports historian Ian Syson says the Australian soccer context is different to the United Kingdom, where the sport was conceived as a working class pastime, or in countries where it's the favoured sport of shanty towns and slum residents.
"Soccer (in Australia) has always had pretensions to professionalism that other sports don't have," he explains.
"It has to fulfil a number of technical requirements unlike, say, Aussie Rules."
This means part of the registration fee goes towards supporting elements of that 'professionalism' -- the qualified coaches, the paid referees, the registration of players even in the lowest amateur leagues with the Football Federation of Australia (which also covers insurance costs), When Ian tells me about the difference in registration costs for the two sports his teenage son plays, my jaw drops.
In winter, when his kid plays soccer at a high level as a goalkeeper for a National Premier League side, the registration fee is more than your average monthly home loan repayment. It's also ten times the amount Ian pays for his son to join a cricket side in the summer.
"Soccer has rarely been a working class sport -- not here, anyway," he says.
Of course, registration fees vary widely from youth clubs competing in the NPL to junior girls sides in the lower leagues.
Whatever the amount, the issue that comes up consistently is how there always seems to be people who miss out because it's too much, like these guys at the Refugee Week clinic, and like the women we wanted to draw to the Swifts who turned up in sandals to our CALD program.
The Swifts happen to hate saying no to women and girls who want to play. Pro-active and often successful in applying for local council, state or federal grants, the players (across three senior sides and one junior side) volunteer for fundraising efforts throughout the year.
This is all in the name of keeping registration costs down, and therefore being as inclusive as possible. It shows -- our teams represent twenty different countries of origin and a range of socio-economic backgrounds. The Swifts are grassroots and diverse and proud of it.
But not all clubs do what we do, or even can do what we do. Unusually for soccer in Victoria, we are not a women's division of an existing men's side, and that itself means the players have a sense of ownership of the club, and are driven to make sure it continues to thrive.
I don't know what the answer is. Should other amateur clubs find their own ways to keep costs down?
"It's the sport of middle class white and wog boys," Ian said at the end of our discussion.
"Where are the Africans or Asians?"
Some were right there in front of me last June, taking part in this clinic because playing for a registered club is out of their reach.