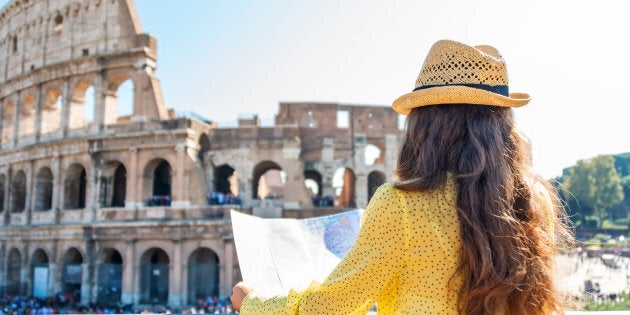 The Supremes sang: "You Can't Hurry Love, you just have to wait".
Um, Miss Diana Ross, I don't want to disrespect the course of love but, could I get some kind of time frame? Just an approximation.
Because I'm a very busy woman. And I woke up one day recently, having so far lived an incredibly successful, but largely loveless 34 years, and have decided, I am ready.
So... here I am. Where do I swipe? Tap? Who do I call? How do I make this happen? Come on. Please, Miss Ross, I've ordered my weekly groceries, played three dementia-preventing games and done a salute to the sun in the time it has taken you to get to the second chorus. Let's hustle, yeah?
In 2017, love is one of the only things we really have to wait for anymore. Sure, we can enjoy a quick fondle from an app-matched lover, but I'm talking real love. The kind of love that I have worshipped at the alter of, the kind of idealistic love that has been indoctrinated into me from a childhood of romantic narratives.
I promised myself I would one day return to this carnally charged nation -- a little wiser, a little braver, a little curvier -- and immerse myself in the embrace of amore.
It might be my almost impossible romantic idealism, but I have always seen love as a force, stronger than any one human. A force capable of conquering terror, and also destroying worlds. And I have such enormous respect and adoration for this force and the length of its process, it's just that, one side of my bed is really cold. And, I could very much do with someone to share 'TV Binge Sundays' with.
So, any chance we could nudge this along a little? If I create the most romantic of circumstances could I get some kind of priority access, or concession for time patiently waited thus far?
When I was 18, two friends and I saved all our money for a year and went on a round-the-world trip that saw us stay in Rome, Italy for five glorious nights.
For a voluptuous 18-year-old who had spent the best part of her teenage years cursing her curves for never attracting the sub-genius surfer types she had lusted after, Rome was the most eye opening and inspiring place for a young libido.
I mean, suave accented men found me incredibly alluring -- me! And I understood, for the first time in my life, what it felt like to be truly desired. I mean, everywhere you turned there was romantic potential. Mamma Mia...
I promised myself I would one day return to this carnally charged nation -- a little wiser, a little braver, a little curvier -- and immerse myself in the embrace of amore.
And 16 years later, I did.
The plan was simple. Dodge the queues to love. Find three, wide open weeks in the calendar. Book a trip to the most beautiful locations along the Italian coastline. Pack many summer dresses, that showcase ample bosom, large hats and wedge heels. Sit in sun drenched café bar, order prosecco for one, and wait for love to find me...
We would probably fall hard. He would come to Australia, I would return to Italy. It would be tricky for a few years, back and forth, until we decided we never want to be with another person and so, we create a dream business together that allows us to live and love in both countries -- with freedom and sunshine and prosecco under big hats. La Dolce Vita.
Maybe my attempt to hurry the course of love angered the powers that be. Or maybe, after 34 years, I have still not quite mastered how the foot works. But on arrival to my very first Italian coastal town, after taking a quick snap of the glorious turquoise Mediterranean from my train window, I donned my big hat and wheeled my suitcase to the door of the carriage... and fell out. Fell straight out.
The metre-high distance from carriage to platform made it an almighty, ankle-breaking tumble. First day. Just off the plane. Had not even checked into my first hotel yet. Summer dress over my head, hat blown an irretrievable distance down the platform, and an excruciating ankle that had swelled to the size of a house brick.
I was forced to schlep, bare foot (wedges are a broken ankle's natural enemy) to a hospital where I spent most of the trip; my feet in the air for all the wrong reasons. No prosecco, no sunsets over the ocean.
The closest anything came to romance was persistent elderly Italian men making unwelcome advances in orthopaedic waiting rooms and having to fend them off with my rental crutches. "Stop licking your lips Giuseppe. No means no, even in Italian. Put your teeth back in!"
It turns out, you really can't hurry love. And if you try, that divine force will rain down its own almighty, but not unfunny, retaliation upon you.
_________________________
You can see Nikki in her solo comedy show: Romanticide.