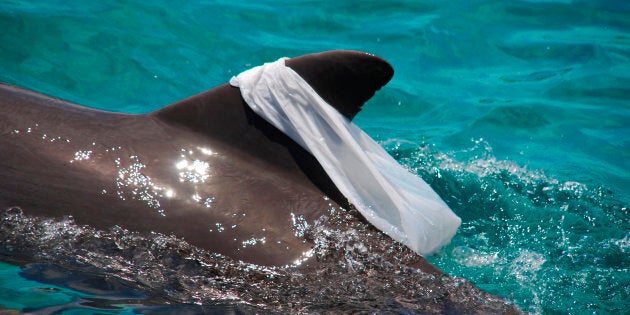 Plastic pollution is reaching crisis levels in Australia, and the only solution is to legislate to ban the most harmful plastics at their source.
Various have been tried here. They're well-intentioned, but they just don't work.
Every year, Australians consume 3.9 billion plastic bags, according to . Just of plastic bags are ever recycled.
Since plastic bags became part of our shopping routines in the 1970s, Australians have dumped billions of plastic bags into our reservoirs, billabongs, swamps, lakes, dams, ponds and oceans. We have become dangerously reliant on plastic, and it's choking our environment.
In the ocean, plastic bags suffocate fish, turtles, penguins, seabirds and other marine animals. When plastic does degrade, it breaks down into smaller pieces of plastic, which marine animals .
But plastic pollution doesn't only affect the natural environment. Again and again, scientific research confirms that whenever we eat seafood, . There hasn't been enough research to know exactly how much damage this plastic and its chemical toxins are doing to us. But despite what was initially assumed, a lot of it remains in our system.
Eating contaminated seafood isn't the only way plastic affects us. The into marine plastic pollution heard evidence that it's also harming the fishing and shipping industries.
The World Economic Forum heard recently that there will be by 2050.
Obviously this has to stop. Nobody wants our precious natural wonders clogged with plastic. We need a plan to tackle plastic pollution and keep our beaches and rivers clean.
Plastic bags are among the and unnecessary forms of plastic out there. To begin to address the plastic pollution crisis, we must ban plastic bags as a matter of urgency. We know that plastic bag bans work. In , about 200 million bags were prevented from polluting the environment within just the first six months of its ban. We also have evidence they work in Victoria. In 2008, the Victorian Government trialled a ban on plastic bags in Warrnambool, Wangaratta and Fountain Gate. In those test areas there was a dramatic in plastic bag use.
We know that plastic bag bans work across the world. Bangladesh, Denmark, Hong Kong, parts of India, Ireland, Italy, South Africa, Taiwan, Rwanda, China and the United Kingdom are among many places that have taken action to curb plastic bag use. We are falling behind the rest of the world. If we want Melbourne to retain its status as the world's most liveable city, we need to preserve what is great about it.
Evidence shows the only way to stop plastic bags from polluting our waterways and killing marine wildlife is to prevent their circulation in the first place. It's also the only way to prevent them from contaminating kerbside recycling bins.
I've participated in many beach clean-ups, and everywhere the problem is the same. In every handful of sand there are pieces of tiny plastic. In every dune there are plastic bottles and plastic bags just waiting for the tide to claim them.
This week I introduced legislation on behalf of the Greens into the Victorian parliament that would ban plastic bags, along with harmful microbeads, those tiny little plastic pieces in cosmetics and detergents designed to wash straight out down the drain. The Greens' bill won't resolve the plastic pollution crisis. But it's the first step.
We have had terrific support from communities across Victoria, from Warrnambool, to Healesville, Frankston and Mornington. Every morning, thousands of Victorians give up hours of their time to collect mountains of plastic rubbish from our beaches. Many towns and communities have taken action to go plastic bag free. Together we can make sure Victoria's environment and its natural beauty is protected.