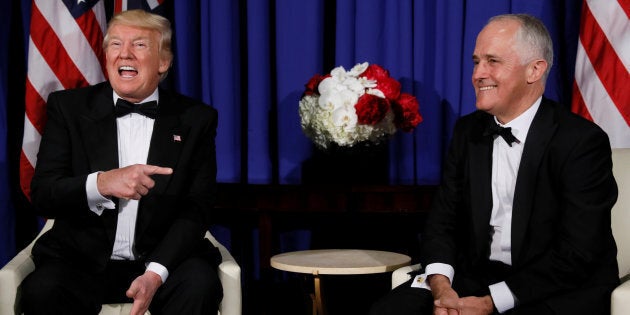 Leader of the free world Donald Trump has endorsed Australia's offshore detention regime and told Prime Minister Malcolm Turnbull that he is worse, even than the American President himself, when it comes to accepting refugees.
The comment came after Turnbull attempted to explain the Kafkaesque workings of Australia's offshore detention regime in a tense and often combative 24-minute phone call held between the two leaders just a week after the President was sworn into office.
Transcripts released to the Washington Post show that Trump repeatedly scolded Turnbull throughout the call as he outlined his opposition to a "stupid" refugee deal that was struck between Australia and the former Obama administration.
As a part of the deal, the United States committed to screening and potentially accepting up to 1250 refugees from Australia's immigration dentition camps on Manus Island and Nauru.
President Trump responded by endorsing the policy, saying, "That is a good idea. We should do that too. You are worse than I am."
It was the closest thing to a compliment that the Australian PM would receive during the call and, when you consider the xenophobic platform on which the current US President ran his campaign, it's no surprise that he supports Australia's offshore detention regime which has been repeatedly criticised by groups like the UN and Amnesty International. After all, Trump launched his run for office by saying that immigrants from neighbouring Mexico were rapists, drug dealers, criminals, killers and, famously, "bad hombres" before adding the favourite qualifier of racists the world over that "some, I assume, are good people."
Given these offensive statements from the past, Trump's admiration for Australia's offshore processing regime and its indefinite detention of innocent people should have given Turnbull pause for thought; perhaps abusing human rights in secretive blackspots dotted across the Pacific isn't the best thing for the Prime Minister to be building a legacy on?
While many people won't accept that Malcolm Turnbull really is "worse" than Donald Trump at anything, the details of the phone call have come out at a time when voters are becoming increasingly bemused by a Prime Minister that has been turning his back on the issues, one after another, that were once central to both his popularity and his supposed personal beliefs.
Whether he likes it or not, people remember the old, moderate Malcolm and his 'concern' for refugees, which was one of the things that made him so different to his predecessor Tony Abbott. They also remember his position on other issues such as an Australian republic, the need to tackle dangerous global warming and his principled support for marriage equality; the latter of which hangs around the Prime Minister's neck like a millstone as he prepares for the Spring sitting of Parliament.
If compliments from plutocrats like Donald Trump are what Turnbull got into politics for, then he's on the right course. If, instead, he wants to leave a legacy that enhances Australia's crowning attributes of multiculturalism, fairness and equality of opportunity, he'd better find the backbone required to chart his own path, despite the conservative grumblings of his party room. And he'd better do it quick.