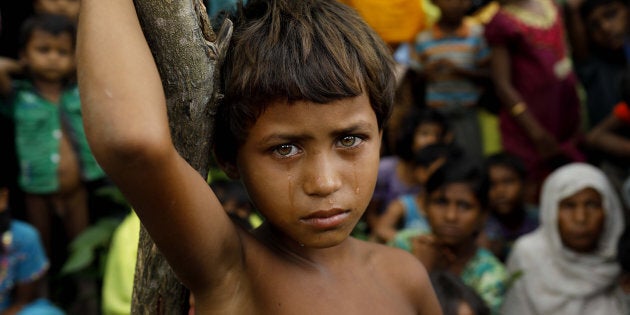 I have no words to explain the feeling that overcame me when I first laid eyes on the massive population of Rohingya refugees in the thick black mud of Cox's Bazar in Bangladesh.
I cannot erase from my mind the harrowing look of fear and trauma that haunted the features of every person I looked at -- the shocking and overwhelming majority of them women and children... So many children... So many alone... So profoundly, unthinkably, visibly distressed.
I have been working with refugees for some years -- visiting camps and detention centres. I have seen the horrendous conditions that people have to endure. But nothing could prepare me for the sheer scale and magnitude of what was happening here -- for kilometre after kilometre -- as far as the eye could see -- almost half a million people with no food, no shelter, no sanitation.
I had to fight a sense of despair and panic as I realised that the brief media spotlight that had brought this unfolding catastrophe to the world's eyes, was beginning to divert to the multiple and simultaneous humanitarian crises of devastating earthquakes and hurricanes -- all equally worthy.
But I remain abundantly aware that, for these Rohingya refugees, it is vitally important that the world does not look away.
For time is crucial in a humanitarian response. Every minute and hour counts. The first phase -- usually six weeks -- is of critical importance to ensure that lives are saved, that aid reaches those most in need, that the chances of the most serious harms are reduced and the outbreak of disease prevented.
Even when the first phase of a response is effective, we know from vast experience, it often condemns generations to an entire childhood and adolescence lived in refugee camps.
How do you explain to a young child that their future may be months, years, even decades warehoused in a refugee camp without adequate education and no livelihoods for their parents?
The United Nations has called the Rohingya the world's most persecuted minority group. They have suffered for decades in silence. Then, when violence broke out in Rakhine State on August 25, 2017, it drove an estimated 480,000 Rohingya refugees across the border into Bangladesh. 290,000 of these refugees are children.
UNICEF is calling this humanitarian crisis a children's emergency.
In heartbreaking contrast to the many adult refugees we met in Cox's Bazar, who expressed relief at having fled the violence and persecution in Myanmar, many of the children we spoke to simply said they wanted to go home.
Children do not experience time like adults. The youngest struggle to grasp that going home may not happen soon, that it may not happen at all.
I struggle with the experiences recounted to me by a seven-year-old boy I met, named Anwar*.
Anwar spoke words that should never be uttered by an adult, let alone by any child. Anwar saw things that no child should ever see.
Anwar's account of his experiences was profoundly horrifying and deeply disturbing. Yet he is just one of 290,000 children -- at least 1500 of whom are unaccompanied or separated from their parents -- who have fled this extreme violence.
These children are without protection, adequate shelter, food, clean water, sanitation, and medical care. The lack of safe places means they are at serious risk of being trafficked, forced into marriage, or exploited for labour.
As I drove down the B-road that runs through Cox's Bazar and saw the thousands and thousands of children and women huddled under flimsily bamboo shelters draped in black plastic, waiting so very patiently in the mud, the risks of trafficking and sexual and gender-based violence were abundantly evident.
Children are incredibly resilient. Yet exposure to violence and insecurity causes serious harm and has profoundly negative effects on the development of a child's brain. An absence of safety and belonging will inevitably have serious long-term effects on the 290,000 children who have arrived in Bangladesh.
We know that education in emergency situations is crucial to strengthen resilience, providing skills and fostering hope for the future. That's why once the immediate needs of food, water, shelter, sanitation and health are addressed, it is critical that the international community remains engaged to ensure that every Rohingya child has access to quality education.
Because, how do you explain to a young child like Anwar that he will not be going home; that he may never go home; that there is nowhere to go to?
How do you explain to a young child that their future may be months, years, even decades warehoused in a refugee camp without adequate education and no livelihoods for their parents? How do you explain that the only permanency they will experience is the absence of what they need to survive and thrive -- a legal identity, protection, education and safety?
Of course you can't, of course you don't. You focus on the present, on addressing immediate needs -- and hope that long-term solutions will be found.
Yet, despite the best efforts of agencies on the ground to distribute aid, this crisis is already experiencing acute shortages of shelter, food, clean water and sanitation, and medical supplies.
As I reflect on my conversations with Anwar, I fight a sense of helpless outrage. How can we allow him and the children with him to be denied a childhood? How can we deny them the opportunity to grow up in a place of safety? To have dignity. A future.
The questions about what will happen to Anwar and the 290,000 children like him must be asked and an answer must be provided.
The world must not look away.
The international community must step in. It must rapidly increase its support -- so that the Rohingya children displaced in Bangladesh do not become a lost generation.
*Anwar is not the boy's real name