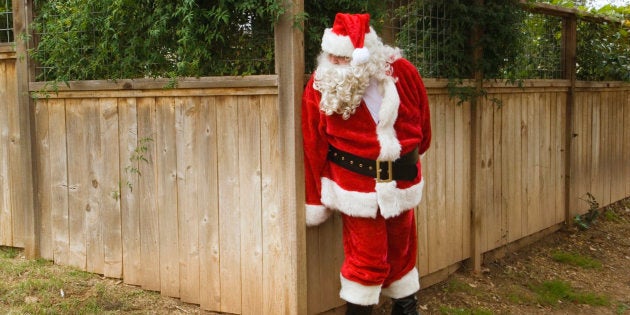 So I was going to write a whole blog about Christmas, and what it means to me. But then I had to go get milk from down the street – that was yesterday! I have only just returned because I spent that entire time looking for a park, then navigating my way between a roadblock of trollies to get to the back of the supermarket to grab a carton of milk. Only then to stand in the self serve line behind a bunch of people who don't understand its not okay to use self serve if you have a trolley full of shopping!
So rather than a long-winded post about my thoughts, feeling and emotions about Christmas, I have condensed it down to a likes and dislikes list for quick reading.
So, what's to dislike about Christmas...
The pre-Christmas frenzy people go into over buying gifts and shopping. Like, you knew for 365 days prior that Christmas was on the 25 of December? Don't leave it till the last minute.
When people ask "am I ready for Christmas?" in a concerning tone, like I'm preparing for an apocalypse or something. Maybe we can try something more cheerful like "are you excited about Christmas?"
Crap television. All your favorite shows are on hiatus and there's only crappy re-runs of '90s sitcoms and cricket. Ba-humbug!
Trying to get a park within five-kilometer radius of a supermarket! It's only closed for one day, not forever -- CALM THE FUDGE DOWN!
When someone lists the amount of people they have to buy for. Like, why do you even need to buy your second cousin's girlfriend's dog need a gift anyway? Quality over quantity, I say. Buy good gifts for those nearest and dearest.
People who complain about how much Christmas costs them and the financial burden they bring upon themselves because they've maxed out credit cards and drained their bank accounts. That is not what it's all about and I think some need to take a second to realize that it isn't about money.
But that all being said, there are many things I absolutely love about Christmas, especially now that I have my own little ones to share it with.
So here is my list of what I love about Christmas...
It's a public holiday, backed up by another public holiday. Winning!
Christmas-light-looking. So many amazing houses lit up like the MCG with amazing light installations for the community to enjoy! Onya guys!
Going to get our Santa photo taken. Even if they cry it's still cute! (Sorry not sorry for the trauma, guys)
Dressing my child up as an elf or other Christmas-themed attire. Sorry, guys, but YOU'RE SO CUTE.
Wrapping presents. I have no idea why I just love wrapping gifts. It's just so much fun putting it under the tree. And I'm not even good at it.
Putting up the Christmas tree, and then watching my cat go spaz over the lights.
Advent calendars. Which are usually all eaten by the 5th 'cause I'm a fatty and they keep my toddler happy.
Christmas tuneskies! Crank me some Mariah cause all "I want for Christmas is YOUUUUUUU!!!"
Spending time with family and friends. A lot of our school friends come home from OS and interstate to see family so its great to catch up with old friends.
Setting the scene for little ones. Writing a letter to Santa, watching Christmas movies, putting out the milk and cookies, it's just so much fun to see the joy in their eyes. And any excuse to watch 'Home Alone' again.
Waking up and realizing its Christmas day. It's the best feeling in the world and now we get to share that with our daughters, which is even more amazing.
The delighted look on someone's face when they open the present you got them and you know you did good. *Dusts off shoulder*
Food comas. Nothing better than stuffing yourself with bulk roast meats, pudding and pav! And it's only lunchtime...
Modern technology. Meaning that come Boxing Day, I don't even have to put pants on to enjoy the sales. While I know some love the excitement and crowd of the BD sales in person, I'm happy to do it in my pyjamas!
While there are always going to be those things that annoy us about Christmas (usually at the hand of other people), it is a wonderful time to enjoy great food with friends and family, while taking some time to reflect on the year and how blessed we truly are. Because the greatest gift of all to me is spending quality time with my family and revelling in the Christmas spirit.
Okay, and presents. I LOVE PRESENTS!