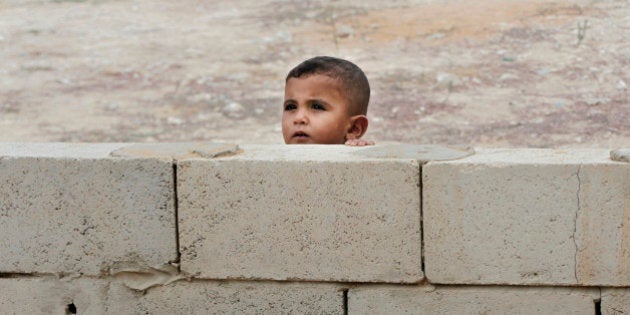 It takes a formidable force to stand resolutely on the side of compassion; courage to bear witness to a ceaseless sea of human desperation and unwavering determination to salvage hope during a brutal war that shows no signs of resolution.
Long after the transient glare of the media spotlight has continued on its way, it is the humanitarian workers who remain, steadfast and resolute, charged with preserving the notion of humanity in an unfathomable hell on earth.
For them, the conflict in Syria is not a three-minute grab on the nightly news, it is a daily reality, a workplace, a mission.
"I've always thought, after having taken this line of work, why isn't everyone doing what I do, why isn't everyone a humanitarian worker?" Patricia Mouamar, Communications Manager for World Vision Lebanon told me. "All you have to do is follow the news a little bit to know that we live in a broken world."
Patricia has been involved in the humanitarian effort surrounding the Syrian crisis since it began in 2011. She has witnessed the surge of refugees fleeing Syria first-hand and, for many, she has been a life raft in a sea of hopelessness and despair.
"It is rewarding and frustrating at the same time, I can't describe the feelings," she told me over Skype. "The way I explain it to myself is, if it weren't for our assistance at all the situation would be much, much more serious than that."
Patricia is based in Lebanon, one of the five countries which, combined, have received 95 percent of Syria's refugees. Lebanon alone has received 1.2 million refugees, meaning approximately one in five people currently living in Lebanon are now Syrian.
Such an influx of people has created problems for the host country, which was ill-prepared for the deluge. There are many flow-on effects the crisis has prompted, Patricia explained. "After more than four years there's a lot of pressure put on the community, there's a lot of pressure put on the health services, the schools, the whole infrastructure of the community, which is leading to a lot of tension between the host communities and the refugees."
Tension is also being created by a burden not often associated with the refugee experience -- growing debt. Spurred on by decreasing access to food vouchers (a consequence of inadequate funding for the World Food Program to address the continuing crisis) many refugees find themselves going into debt in order to provide food for themselves and their families.
"With every food cut, families have to make these difficult choices around the variety of foods they are purchasing, the frequency of meals," said Patricia. "Debt is something that you cannot see, but it is there. It's the worst form of need in my opinion, because you are living, you probably manage to eat once a day but you're going into debt in return and everybody has to pay the debt at some point. I promise you that there is not one refugee I have talked to who was debt-free. Not one. Just like there is not one refugee who tells me they don't want to go back to Syria.
According to The Aid Worker Security Database 149 aid workers have been killed, wounded or kidnapped in Syria since the conflict began. With such violence and desperation always at hand, does Patricia ever feel vulnerable while working in neighbouring Lebanon?
"I feel sad, honestly," she said. "I don't have time to feel otherwise".
Perhaps what fuels Patricia's compassion for Syria's abandoned people are her own memories of growing up in the midst of the Lebanese civil war where, she tells me: "Even as children we used to hide from the bombs, we used to hide in shelters and we even ran away from our home in Beirut, the capital, to the mountains seeking refuge."
Such memories were brought back when Patricia met a young Syrian refugee last year who, having fled the conflict with his parents, brother, sister and uncle, was imitating the sounds of the bombs he had heard in his homeland.
"That child really stood out for me," said Patricia. "There was such a graciousness about what he lived but at the same time he was only nine. He was talking as if he was a man, which is not something he needs to do. You know, he's a child. He needs to live his childhood which he was robbed of."